I can't log into my account. Can you help with that?
I'm having trouble liking this post, could you help? Thank you, I've been trying to like posts for a while and I would appreciate some help.
I'm having difficulty finding likeable posts on this website lately
I think it's finally time we shut it down
I also have the same problem, not sure how to resolve it.
no comic sans and too high of FPS, 6/10
Wait, are you like saying to, like, like posts on like topics whether we like them or, like, not?
Like what I like to do is like go to like a thread about likes and like look at like good posts but like in general you wanna like like topics that you like yeah so like you kinda like have the right idea.
truly inspirational advice
question for Mr. Durrani – what hue of pink is the heart supposed to turn?
Light Theme:
#FD6E8D Normally
#FD6C8C When hovering next to it
Dark Theme:
#BB556C Normally
#FD6C8C When hovering next to it
Classic Theme:
#FA94AB Normally
#FD6C8C When hovering next to it
All Black Everything Theme:
#000000 Normally
#000000 When hovering next to it
(Yes, I actually checked)
"Chef Deli" is my new favorite nickname for this site.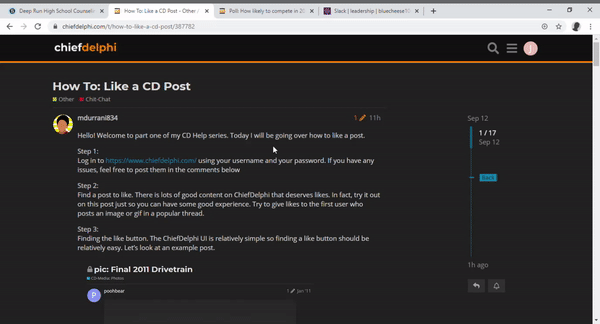 Thanks for the tutorial, I'm getting so good at this!
I've found this only works on this post, am I doing something right for once?

CD has some of the dankest memes. Poohbear Decagon wheels going 154 fps in every direction.
That one is without peer. Someday, someone should build it for real. In a few years we will have cheap-enough additive (CEA), and boxes full of obsolete motors and control systems, so it will only be an over night print job and an afternoon of assembly. Then it can rattle the floor while it pirouettes at twenty revs per second.
Like it.
This topic was automatically closed 365 days after the last reply. New replies are no longer allowed.