introducing this year's ILITE Drivetrain Simulator. Not only have we incorporated more elements about how ILITE designs our drive trains, I've included several rounds of feedback I have received from many teams across FRC.
ILITE-DriveTrainSimulator.xlsx (3.0 MB)
Input a target motor, number of motors, and over 25 other elements about your drive train design in order to see more characteristics, charts, and design tradeoffs than ever before! Furthermore, there is more emphasis on the KOP drivetrain, in order to help teams understand what impacts "steroids" can have.
What's New?

Added a changelog tab to track everything that has changed
Added the Falcon and NEO550 motors
More accurate modeling of deceleration, wheel slip, current draw during wheel slip
A static KOP drivetrain image so you can compare your choices against the original KOP
or strategize about what to do if you have the KOP but face a more optimized drive train
Now you can show or hide all of the individual lines on the tradeoff graphs, in order to clean them up a bit
Added a few enhancements related to shifting transmissions
More useful elements like turning deadband, estimated throttle response times, and motion profiling graphs
This year, the spreadsheet has many more elements!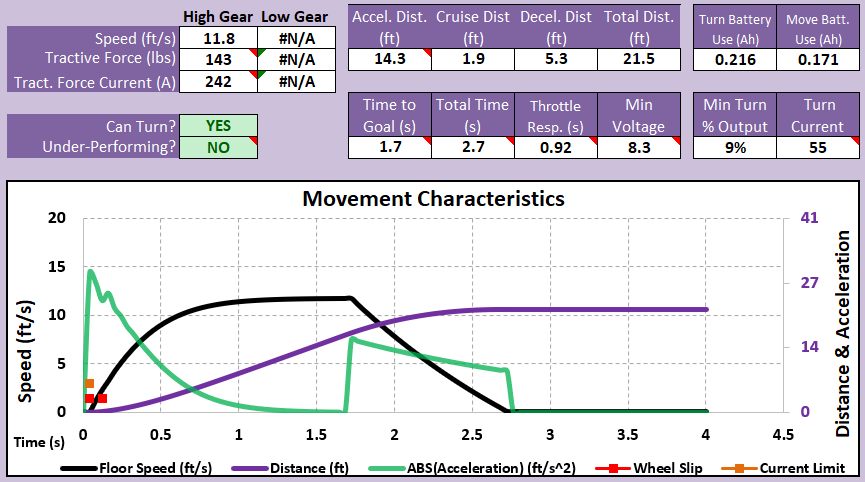 To help guide you through this simulator, I created a tutorial! I will be available on ChiefDelphi and FRC Discord to answer questions (CD is typically faster, since Discord is a bit noisy).

Want to get notified about spreadhseet updates with fixes or further enhancements? Then "Watch" or "Star" the github repository here: