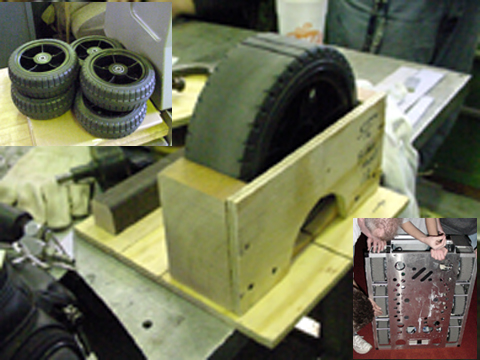 This little composire picture shows the before and after of our 2002 and 2003 wheels.
In the upper left are the wide Skyway wheels before tooling. They are hard rubber on a plastic hub and you can see that the arch of the wheel surface is evident. Thus the surface area in contact with the playing surface is limited.
Therefore we lathed them with a cutting tool to smooth "slicks" of a slightly smaller diameter.
After experimenting with them last year we found that some tread is desirable. So the next step is to cut the wheels on a table saw using the jig in the middle picture. Each wheel takes nearly an hour to cut the individual treads.
The lower right picture shows the wheels on the Silver Scorpion of last year. The criss cross treads are somewhat visible.
While we weren't the strongest robot out there were were strong enough to hold two goals and get the Archimedes division title.
WC