We've been really struggling this year with velocity noise on the REV Throughbore encoder. We have one on each side of our drive train (custom WCD), on the same shaft as the center traction wheel (corner omnis), with the quadrature output wired to the DIO on the rio. There's no noticeable amount of backlash from the wheel to the encoder, and our drive motors are situated by the back wheels, so about 10+ inches away from the encoders. We've tried upping the samples averaged in the encoder class, but this doesn't help as much as hoped.
This is a velocity vs time plot for the wheel spinning free with the axle disconnected on the default of 1 sample per average.
This is another plot with the samples averaged turned up to 60, driven by a drill at different speeds.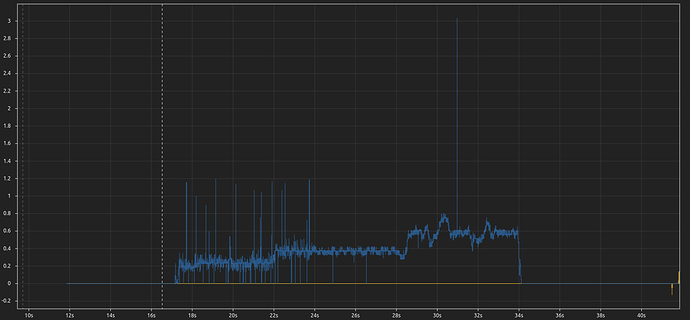 Here's similar data, but this time with the velocity calculated by dividing the change in reported encoder distance by the time measured since the last calculation. These spikes are mostly due to GC or some timing wackiness in Java, but similar spikes show up on occasion when running with low (<10) samples per average and higher speeds.
Note: All these tests were run with the robot disabled and the drive motors disconnected from the controllers, so EMI from motors seems an unlikely culprit.
We have no ferules on the encoder wires if that's relevant, and there is about 15-25 degrees worth of wheel rotation in backlash from the axles to the motor output.
Any ideas on why it's so noisy? We've been trying to do path following and the feedback controllers really don't seem to play nicely with this data. I've considered getting the alternate encoder breakouts and just running the encoders to the motor controllers and running PID there, which might be better, but I have some concerns about this affecting our pose estimation with CAN delays and whether it would even help the problem.