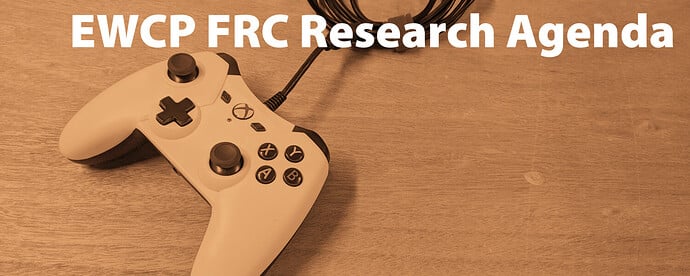 EWCP has developed an FRC Research Agenda: our attempt to coordinate a rough consensus on the next steps of tech development in our sport.
We invite collaborators to join us in refining the Agenda, which is in a preliminary state, and tackling the interesting unsolved problems listed in it.
EWCP FRC Research Agenda
Repository
Why we need a research agenda
A research agenda is needed to serve as a framework for intentional, organized study of the things we think are important-- the things that will make a beneficial impact in our competition community.
The EWCP FRC Research Agenda will reinvigorate our community's interest in citizen-science at a unique point in the history of FRC: a time when teams are returning to their workshops and re-opening lines of inquiry that had been dormant during COVID. We also hope to inspire new researchers to explore these and related topics as they begin their exciting journeys in STEM.
Project goals
Build a rough consensus:
What is the current "cutting edge" of FRC?
What should be the focus of research if we wish to advance the cutting edge?
Support teams already doing good research and teams embarking on new high-priority research
Generally promote scientific thought, especially with regards to:
indigenous knowledge that may no longer represent the best practice
information originating from FIRST and FRC suppliers
Why we are qualified to present a research agenda
EWCP represents a diverse group of current and former FIRST adult participants with copious experience using our resources to grow the FRC knowledge base.
How you can contribute to the research agenda
We invite members of this community to help us improve the EWCP FRC Research Agenda. What items should be added or dropped? How should the items be prioritized?