The Ozzyboards TubeMagic Drilling Jig (1") is an innovative tool which allows teams to easily make accurate frames and mechanisms without the need for costly pre-drilled tubing. Featuring 7 hardened 5/32" drill bushings on 1/2" intervals, this tool will withstand many seasons of heavy use. The adjustable end-stop allows teams to precisely select the width of their chassis wheel well in 1/4" increments. The ability to remove the end-stop allows the jig to be placed and clamped in the middle of a 2x1 or 1x1 tube to create a precise ½" hole pattern without the need for the entire piece of tubing to be pre-drilled.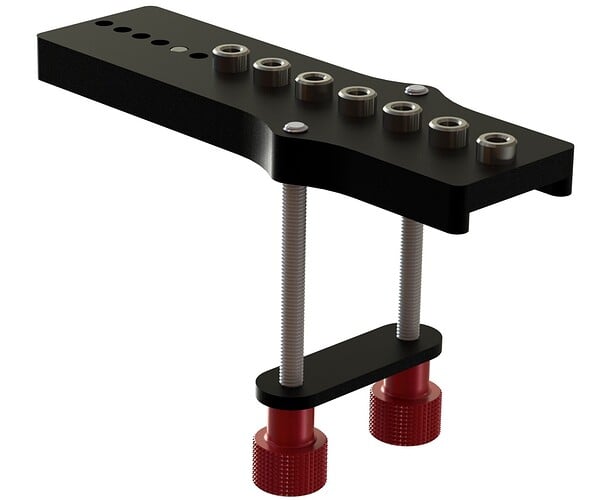 This product will be black anodized and come with the drill bushings pre-installed. The high-quality knurled thumbscrews are suitable for most clamping applications but standard socket head bolts will also be included for those who want the extra security.
The Drilling Jig is available for preorder now for $35 and will be shipping in approximately 2-3 weeks. We will update the thread as well as email customers when we have more information on availability.
With the increasingly large community of FRC Teams who use CNC Routers to produce aluminums parts for there robots we have evaluated a range of different single flute endmills and are now proud to offer high-quality endmills in 4 and 6mm sizes.
The 4mm is a workhorse Solid Carbide endmill capable of boring and slotting at high speeds. This size of endmill is ideal for teams who have routers without ATC Spindles and want to be able to cut parts fast without needing to worry about changing tools. This endmill is capable of boring 5/32 and 3/16 holes with ease while still being able to achieve decent speeds and MRR while slotting. Cutting dry this endmill is able to cut through 1/8" aluminium sheet in 2-3 passes at 60IPM+ and with the addition of a mister can comfortably cut through 1/8" aluminum sheet in 2 passes at 80IPM+. A chipload of 0.003-004 is recommended. This endmill is also ideal for routing polycarb, Delrin and other plastics with ¼" DOC and 100IPM+ being possible in these softer materials.
The 6mm is ideal for applications involving slotting and pocketing in thicker sheet/plate, 1/8" aluminum sheet can easily be cut in a single pass at speeds of over 100IPM but be careful to ensure your work holding and machine can support this. These larger endmills are also incredibly durable and difficult to break, these endmills will make huge numbers of parts before they need replacing, just a couple of these endmills are capable of making an entire seasons parts.
Shipping on Endmills is free of charge and is done from Australia (will take around 1.5-2 weeks to arrive)