l have been testing our shooter recently and l find that l am have huge problem in the PID tuning of our shooter. l have used P and F on my shooter and you can see the final effect below.
l know it's far from satisfaction and the actual effect is below.
210aa49835a70bf2b9a9dcabf4de5820.mp4
In this video, the shooter's speed is a fixed rpm, and the ball are almost the same. But the shooting effect is totally different, l am very sure the shooter is not tuned well, but l think l can only reach this level now.
Aftering searching for some information on CD, l find that a PF may be best forme. And after seeing many team's code, l find many of them have used supplycurrentlimit and set Status Frame period.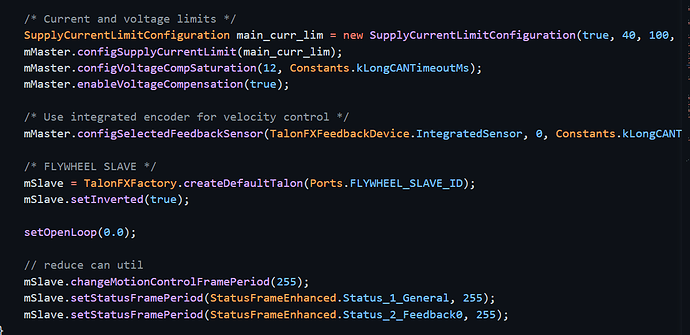 Will these make the motor rotates more accurately?
Besides, my purpose is to write a PID which makes me set and read the RPM from the motor. If anyone has better ideas on how to reach this, please also share it in the topic. Thanks for replying!