Jared H-K's DESTINATION: DEEP SPACE resources
My resources are back for the 2019 FIRST Robotics Competition Season at deepspace.jaredhk.com
On my site, I will have a scoring calculator, game test, printables, a youth registration guide, and more. Read below to see what is in store. The scoring calculator will be published in Google Sheets within about 2 hours of Kickoff. I'll post again here once it is ready. Excel will come later in the day. Printables and game test will be within the next few days (hopefully by end of day Monday). The registration guide is available now.
Scoring Calculator

The scoring calculator, offered at deepspace.jaredhk.com/calc, will allow you to calculate potential point values of the game. It will be offered in three formats: (1) Google Sheets - best for online usage. You will need to make a new copy when updates are published. (2) Excel - best for offline download. Excel required. You will need to redownload when there are updates. (3) Use on site - this doesn't require updates or downloads but does require an internet connection and may not work in all browsers. Use with caution.

Printables

Details coming soon. Check back on deepspace.jaredhk.com/print and on this thread.
Game Test

A multiple choice test will be offered in two formats at deepspace.jaredhk.com/gametest. First is a Google Forms version which will provide you a grade and a link you can send to coaches/mentors with your score. The other option is a Kahoot! quiz which will allow teams to run their own rules competition. More details will be posted on this thread soon.

Registration Guide

Registering students in STIMS shouldn't be hard. But it is. Use this guide as a walkthrough for youth registration for students and parents. This guide is ready now at deepspace.jaredhk.com/register.
Check it all out at deepspace.jaredhk.com! Content will be added constantly over the next few days. Continue to monitor this thread and the website for updates.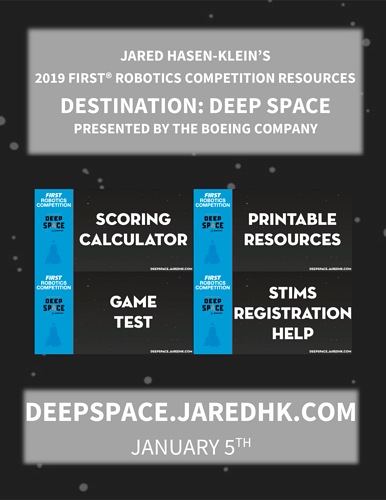 One last time, that website is deepspace.jaredhk.com!