Over the holidays I set myself the challenge of designing a "swerve drive" module which could possibly be built for less than about ~$200 ea without the wheel, motor and encoder (50-60% of what it costs to buy one). The way I've done that is to minimize machined parts as much as possible by using:
3D printed forks and azimuth plate. Stiffened using COTS aluminum inserts (also compatible with the SDS fork assembly if the design doesn't fly)
a 2 stage drive geartrain, using a minimum number of parts.
a 2 stage steering reduction using a 3D printed cluster pulley
a laser cut plastic top plate
a dead axle colson wheel (also compatible with the WCP treaded wheel)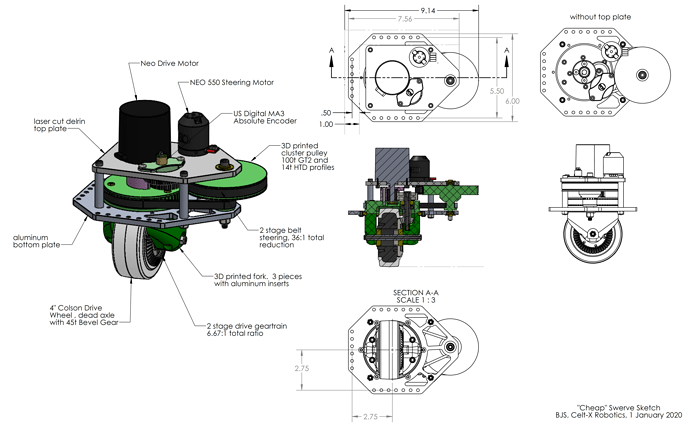 bj19-cheap swerve.STEP
(28.6 MB)
Solidworks tells me the all-up weight as shown is about 4.5 lb. And it's the same height and width as both the SDS and WCP modules (though a little longer). The drive ratio is currently 6.7:1 on a 4" wheel, but that can be varied from 9:1 through 4.5:1 by changing the motor pinion. The steering ratio is 36:1, but that may change once the Neo 550 torque curves are released (or I might switch the steering back to a Neo / Falcon).
It's not perfect, but I think it's got some good ideas. I don't have any reveal pictures since it's just a CAD model atm. But feel free to download the CAD files below and offer critiques.
5406 won't be doing swerve in 2020, but after seeing so many cool design pop up, it might be something we try in the summer. In general Swerve is still costlier, riskier and more complicated than a tank drive chassis. But I think in the long run the performance advantage will grow thanks to better code, and more time to practice without the bag, and the cost disadvantage will diminish with more COTS parts. I'm kind of looking forward to the day when making next year's robot involves unbolting last year's swerve modules onto the new frame!