I've sent this exact email to the CTRE folk, but they likely are swamped with issues at this time. Due to lack of time available to our team before competition we're trying to seek another thread to get some answers. My apologies if CTRE finds this offensive.
It would greatly simplify our algorithm if we didn't allow the position to wrap and stay in the 0 - 1023 range. However, nothing we've tried seems to disable the wrapping.
We've tried the following:
1.) Using Phoenix Tuner under Config we applied the setting for FeedbackNotContinuous and saved it. We rebooted the RoboRio and pushed code and found it was still wrapping.
2.) We went into the config for the spin motor controller settings and toggled this setting.
And saved it
then pushed the code and found it was still wrapping.
3.) We even tried the granular approach, but documentation on this particular one is fairly non-existent so not sure if we used it correctly.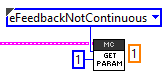 This also didn't stop the wrapping behavior.
Did we stumble on a bug or are we doing this wrong?