Last reminder! We have extended our FREE Third Annual STEM Career Series!
NEW - FIFTH Session! Team Spyder and PHS SWENext would like to invite you to our FREE Third Annual STEM Career Series, fifth of eight sessions on August 25th, 2021, at 5 pm with presentation "Inspire the Future" featuring Michelle Vargas as our keynote speaker. Michelle Vargas is the Manufacturing/Operations Quality Manager at Illumina. She is the current Co-Chair of the American Society for Quality (ASQ) NextGen and the ASQ Deputy Regional Director for San Diego, Temecula, and Palomar. In her spare time, she's very active in her community by mentoring and guiding students from elementary and college, which also helps them transition to the professional world. Because of her community work and Engineering skills, she was the recipient of numerous awards.
Use the QR Code or link address to register: https://forms.gle/MRCqcpzcrWbsaNbH6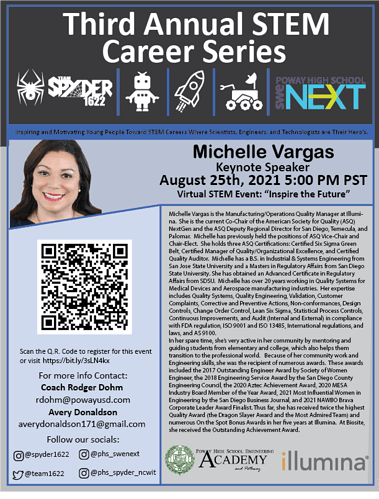 Can't wait to see you there!