Would it be in violation of any rules to have a motor that is controlled by a coprocessor (such as a RaspberrryPi) that is not connected to the RoboRio? The motor would respond to the robot enabling/disabling, however the RoboRio won't be able to directly control it.
For example, a motor controlled through PWM with a RaspberryPi. The motor is not connected to the RoboRio, and the RaspberryPi is not connected to the rest of the robot's radio. The only communication between the RaspberryPi and the RoboRio would be through a wire that is either receiving current or not (boolean true/false) which tells the Pi if the robot is disabled.
Simple diagram of this: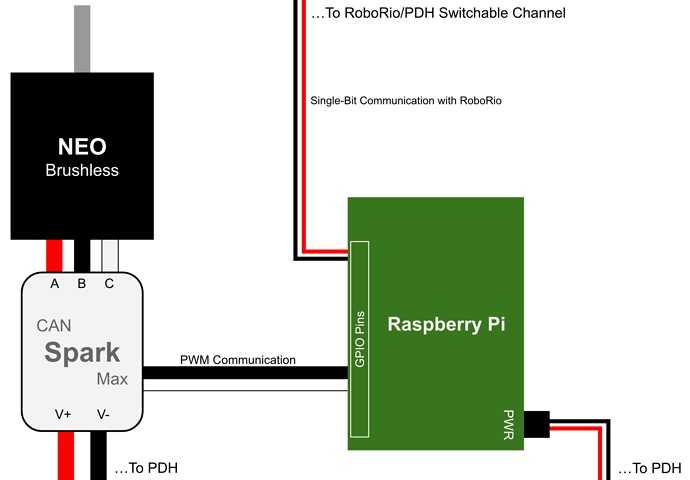 Or with CAN bus: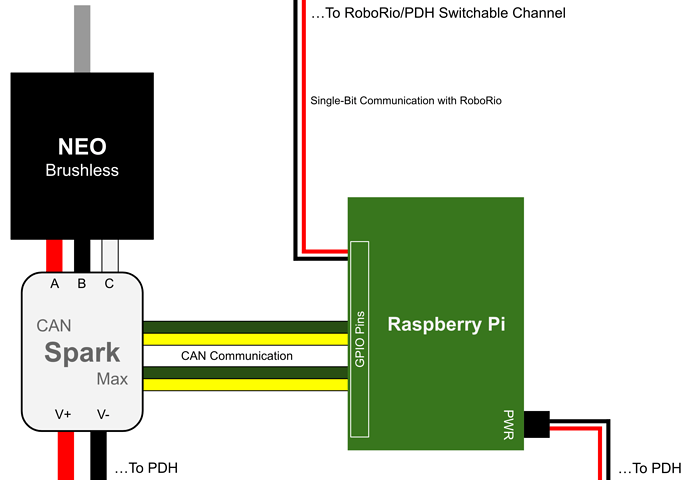 The Pi would use the single-bit communication to determine if the robot is disabled or enabled (The RoboRio will switch off current after disabling and back on while enabled), so that the motor can be stopped without completely turning off power to the Pi.
With this, the robot would still obey the RoboRio's enable/disable commands. The communication between the Pi and the CAN Spark Max would be PWM or CAN bus (hosted by Pi, not RoboRio).
Would this be legal, as the motor is not directly connected to the RoboRio? The purpose of this wiring system is to minimize the amount of data being transferred between this and the rest of the robot (notice all wires go to PDH and do not carry data, besides single-bit communication wire).
Edit: Many people are saying this is illegal. Is there another way of controlling a motor like this that minimizes communication/data between motor controller and the rest of the robot?