254 at the St. Louis Championship. Oh and Championship in St. Louis
A theme song. Steam Powered wasn't great, but it was kind of fun. This year, FIRST and Star Wars also would have had an opportunity to cross over for a legendary classical/rap musical duo:
John will.i.ams
, it was better than great
Gone, but not forgotten.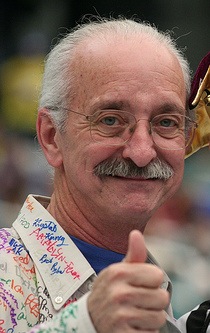 A game that wasn't advertisement for Disney
Rain delays in St. Louis.
Competing against teams west of the Mississippi at a Championship.
Screaming ROPEEEEE while banging on the glass.
Speaking of that, being able to bang on the glass
I want to hear the rest of this story! Why were you stuck in the airship?
The story is exactly that. They couldn't start the match with the connection issues and figured it would be resolved shortly enough. That turned into an hour.
You're just waiting for someone to say "Bag'n'Tag" day, aren't you?
Jason
A true world champion (at the cost of a $1 million event attended by 6 teams).
Hey, there were 8, and 7 were on the field.
Lest we forget Houston and Detroit Championships this year

sure their not 2017 but they also were anything but ideal. As for 2017, sunlight in MMP delaying further matches; I haven't personally been to MMP since then (it was 3128s one and only time going to MMP during my tenure) but that sunlight was not fun for anyone and obscured parts of the Jumbotron I believe depending on your seating?
This song thankfully is gone.
Troy was referring to a specific event, that I happen to also have been at. The worst part was that I think that was the 4th or 5th match to have major delays–and that one might have needed 2-3 tries to start up properly before someone was able to get into the server area and start pulling cables. Cue Pilot Rock-Paper-Scissors between the Airships.
Ooh! Ooh! We don't have field parts that can be removed from the field when stuck in a game piece, then stay stuck in the game piece while it's being used in its objective! Same event, but in playoffs.
You can bang on the glass again this year. But let's just get rid of it in it's entirety.