I'm curious about the "without gearbox disassembly". Is there a hole through the front face I can't see? (even then it'd likely be blocked by any face-mounting hardware). I don't reeeeally want to keep stubby allens around just for that, but the motors this is designed for shouldn't be smoking much, so eh.
Also hoping for some kind of output shaft retention mechanism built in.
It's designed so that you can use a ball hex key get to the motor cap screws
Are the modules as self-contained as the ultraplanetary? Those are much nicer to use than the VP.
How dare you deprive me of getting white lithium grease all over my hands and the table and my shirt and the grease tube and the toolbox and the McMaster bags and…
Do you have to weld the pins in to prevent binding?
Hmm what do we have here?
@Greg_Needel , cool, you twisted my arm. Please let us know when we can purchase.

Less time spent on fiddly bits means more time to iterate on things that score. Bravo!
I'm not really sure how to approach this question but…
In terms of fairness to all teams, why is this group of people getting access to new product information ahead of the rest of FRC?
This looks amazing.
We've been using explicitly the Ultraplanetary gearboxes for our FTC team and if these are half as awesome and easy to use we will be using lots of these in FRC.
Based on Greg's response of "Oh hi……… more info coming soon." and not "Please do not leak confidential slideshows, enjoy your ban.", I imagine this would have been posted publicly shortly afterwards anyway.
This talk also appears to have been publicly posted on YouTube before this was posted.
Edit: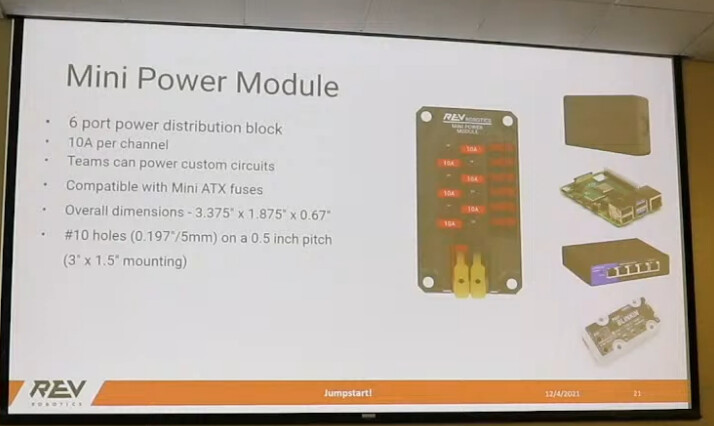 Yeah I don't think this is anything worth talking about. It's not like the teams that attended the event had the ability to purchase it before any other team. The only realy value was seeing that it exists… so essentially you know as much as the teams that attended at this point.
We're not owed equal access to such information… The knowledge gradient is actually a central part of this competition and is part of why it's fun (and a good simulation of the professional stem experience)–
– developing a competitive advantage by cultivating sources, filtering out chaff, etc. without becoming overwhelmed by the firehose
– building a credible defense against more in-the-know opponents
People within FRC regularly know what's coming down the pipeline as far as products. Many teams end up beta testing prototype products at off seasons or in their own shops. This can sometimes be years ahead of when the product is actually released. While it may seem like this is an advantage, and it may well be, it really ends up helping folks. Having been involved directly or tangentially in a few product tests over the years it's a lot of work and things regularly don't work properly.
Truth - I wouldn't worry about this. The info all got out real quick, and currently it's just a picture, no CAD, no load ratings…
Wait, him being a Dead head is a leak? I think that was like the 2nd or 3rd thing I knew about Greg.