I've compiled a short tutorial on how to create wires in inventor…
I'm going to upload one with photos integrated into it in a few minutes.
This is how I've figured it out, so if there are more efficient ways to do this, please voice the thought in here.
**This is really basic, so be warned; I probably can't answer any heavy questions.
**
Start out with an assembly. If you're doing the Controls Box, like I am, the easiest way to connect multiple components together is in assembly mode.
Now, go to the part that you want to start the wire on, right click it, and edit. You have to go down to the PART level of editing to get this to work right.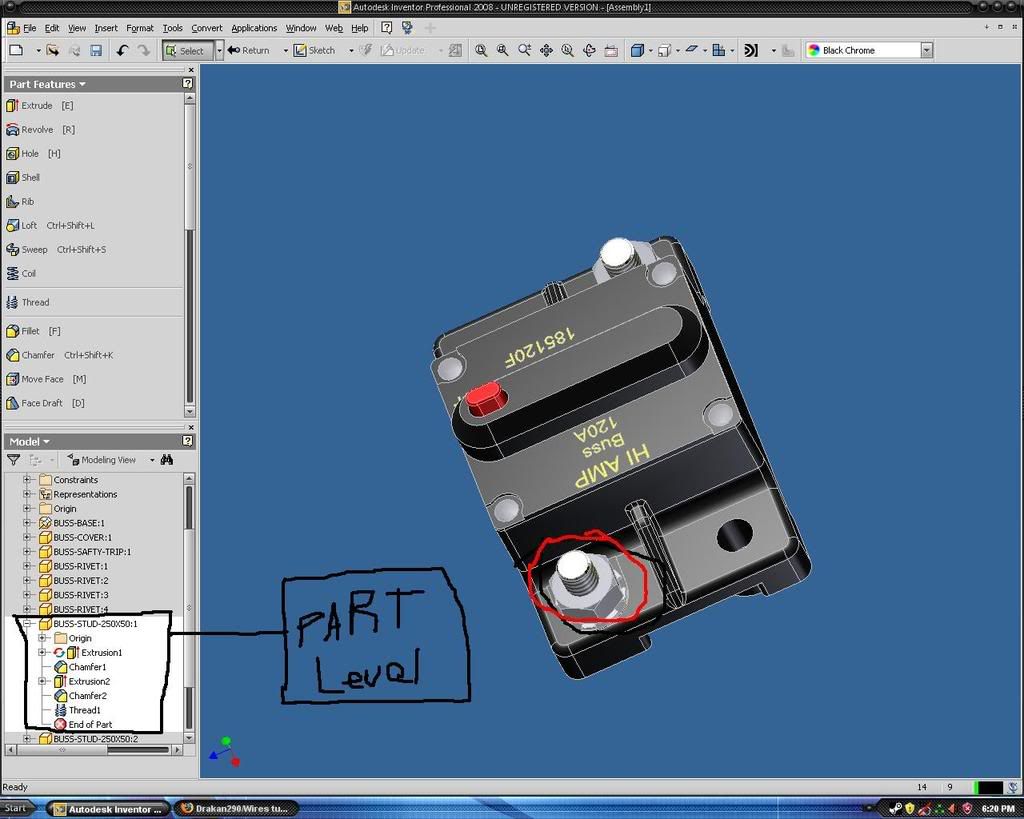 Now that you're at the part level, you have to go and harness the part to make the pins. Go up to the top menu (Assembly Menu) and change it to Harness part. **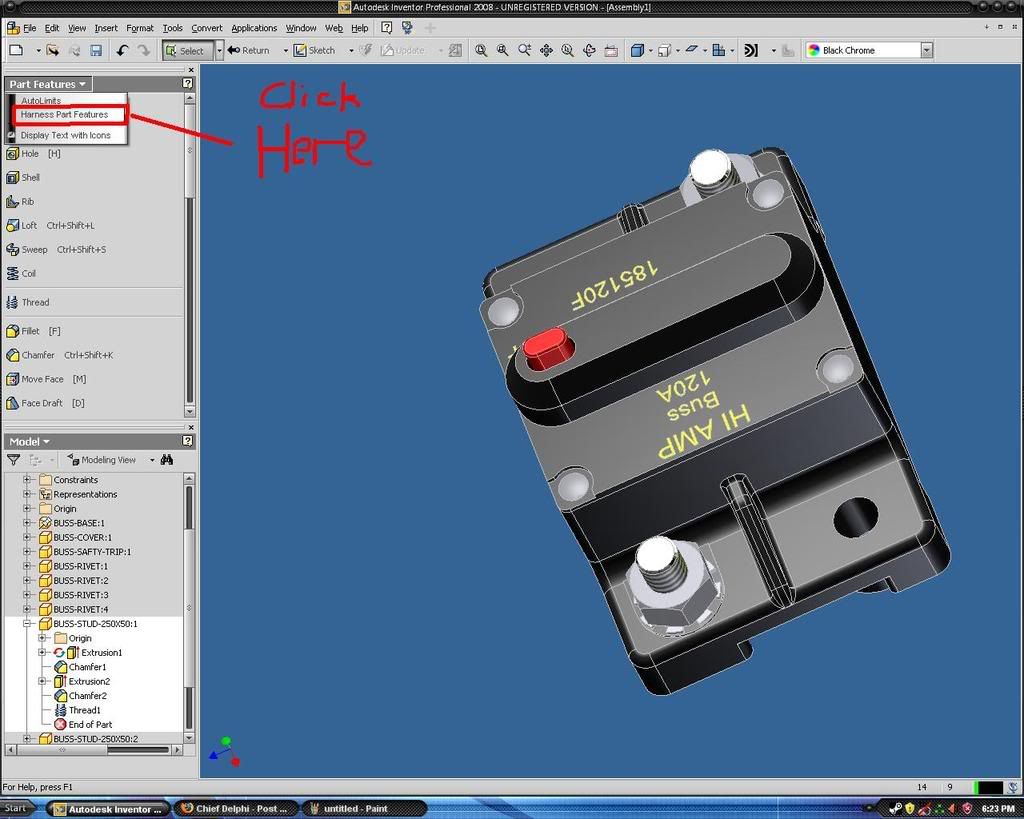 **
You should see a screen that looks like this:
**Next, click on the Create Pin button, and if you're working with a circular connector (Sure hope so!) make it a concentric pin. **
There should be a little yellow pin show up, and you can name it to whatever convention suits you. For tutorial purposes, I'm calling it Connector 1.
Now, if your assembly is using the same part for all it's connections (Like mine is), all of your connections will have a pin on them. Inventor makes it easy!

**
Now that you've created your pins, you should finish the edit (Right click, Finish edit, Finish Edit). I'm going to use two of the Circuit breakers and connect them together for this tutorial. Notice how both of them have pins on all of the screws.**

**
For the next step, go back to the Assembly panel, scroll down until you get to the Create Harness button. Create a harness, and use the default name. You'll rename it later on.**

**
Now, you should come to a screen that has Create Wire/Cable, Segment and other confusing items in the left tray. It's not hard to figure them out though, they're pretty generic. Now, go to create wire, and this is where you get to use pins.
**


**
Now, you need to figure out which type of wire you want to use. For this demonstration, I am going to use 12 guage RED wire. Go to Generic under the category, and 12AWG-RED for Red 12 Guage wire.**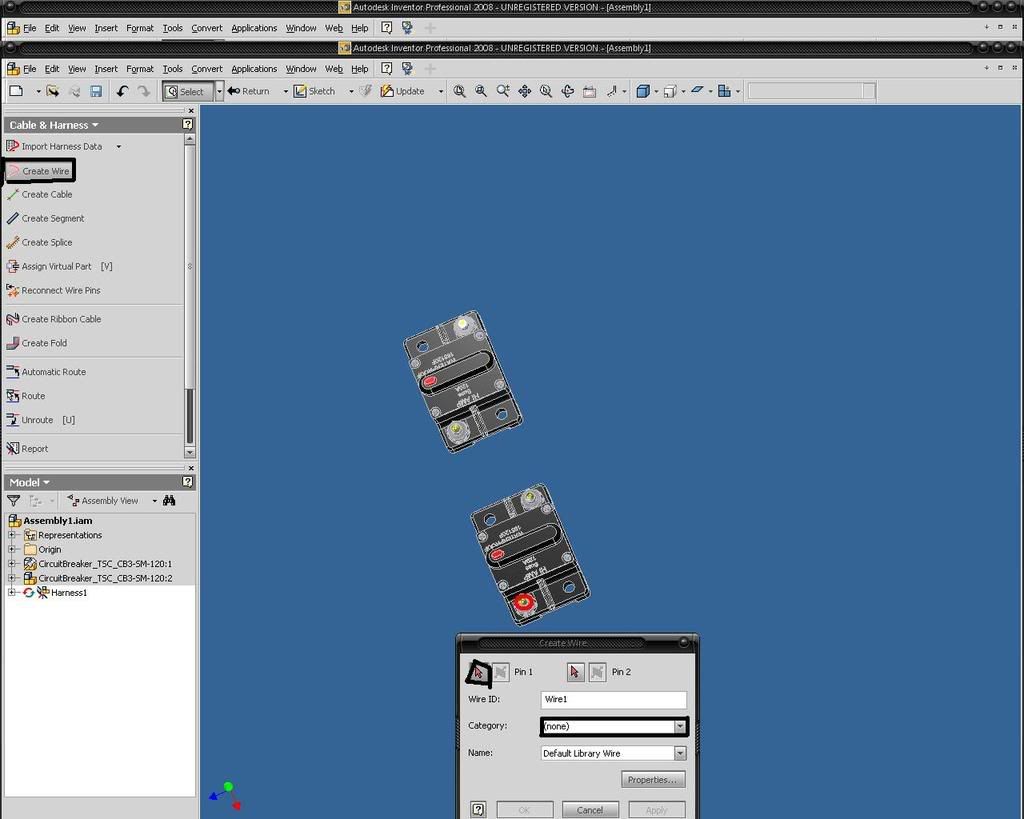 **
Now, select the second pin, click it, and hit apply.**
Now, click on Create Segment. This is basically determining the routing of a wire.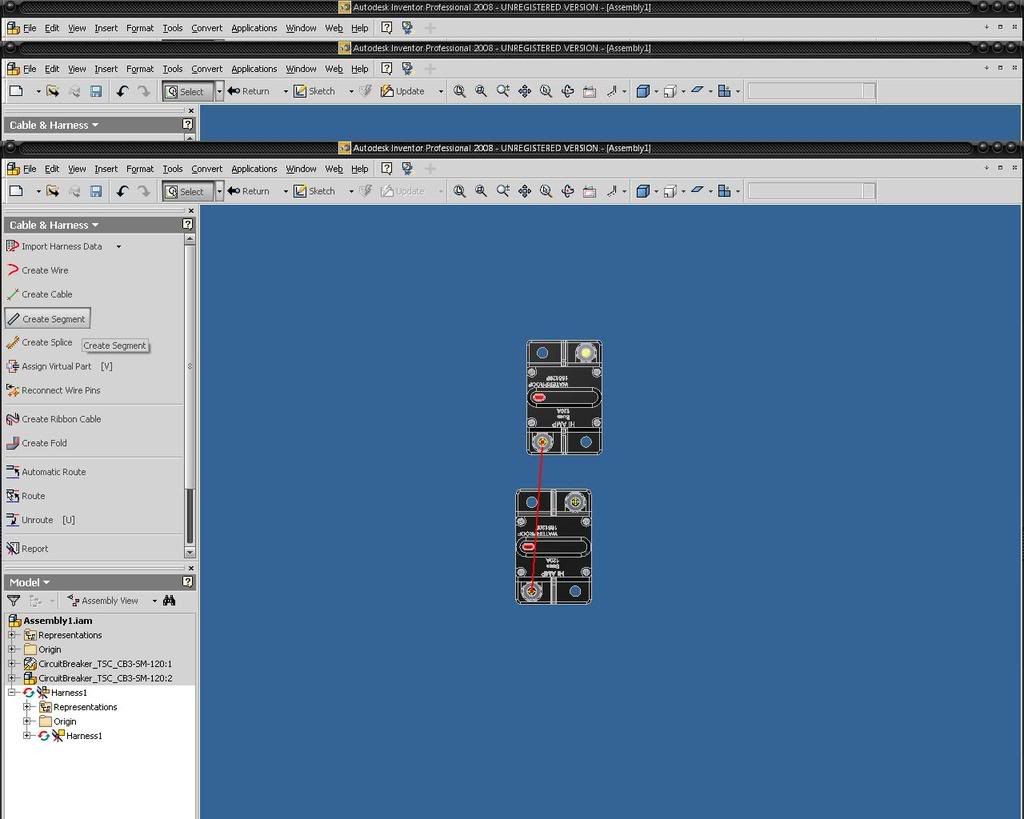 **Pick some points to place the segment points, preferably easy to access, as you will most likely be routing the wires through space. When you're done putting points in easy to access space, hit apply and finish the segment. You'll need to use 3d Move in this tutorial.
**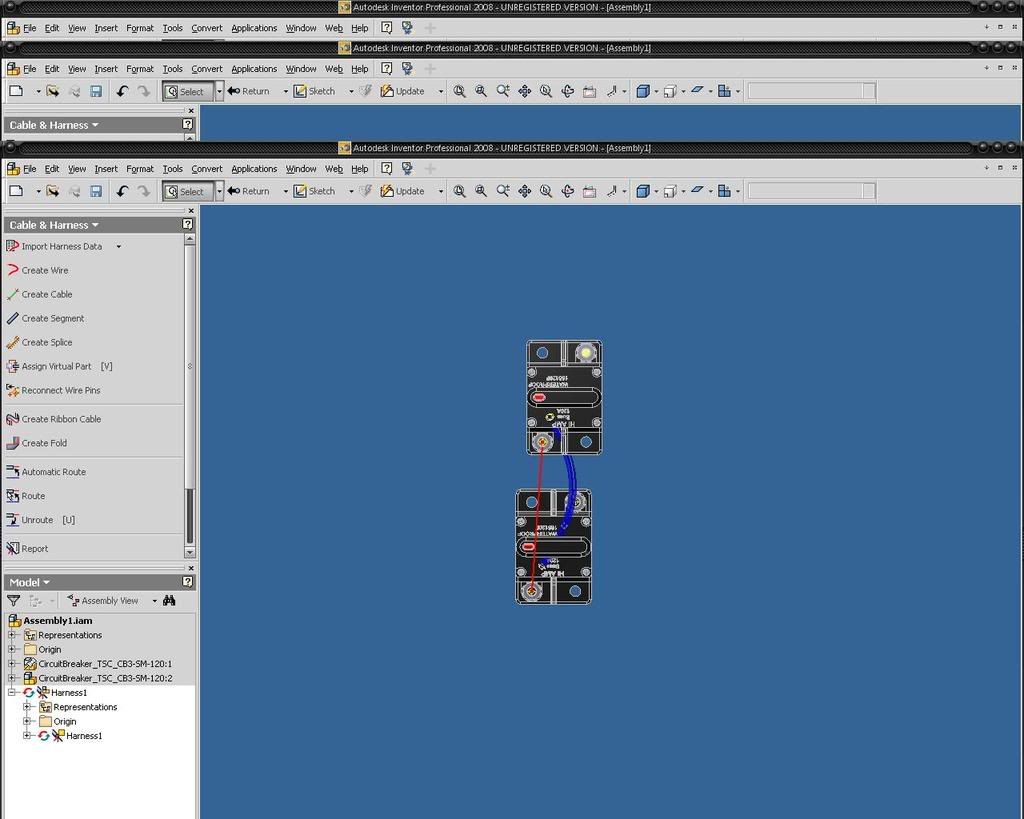 Now, you're going to have to move the segment. Go to the point you want to move, and right click it, and hit 3d Move/Rotate. Move it to the right area, and then do that to all the other points. Make sure that you're not making the points too close, or you'll get a Geometry error. To fix it, just 3d move the points so the angle is not as strict.
Now that you've moved all the points to the space in 3d world that you want, it should look something like this:
Now, you're going to have to route the wire through the segment. You're going to want to do a single segment for the purposes of this tutorial, so click on single segment.
Ok, so now that you're at the screen to connect the segment, you're lost. OK don't worry, you're still on track. Now, click on the red arrow that says Wires, and select the wire we put in earlier.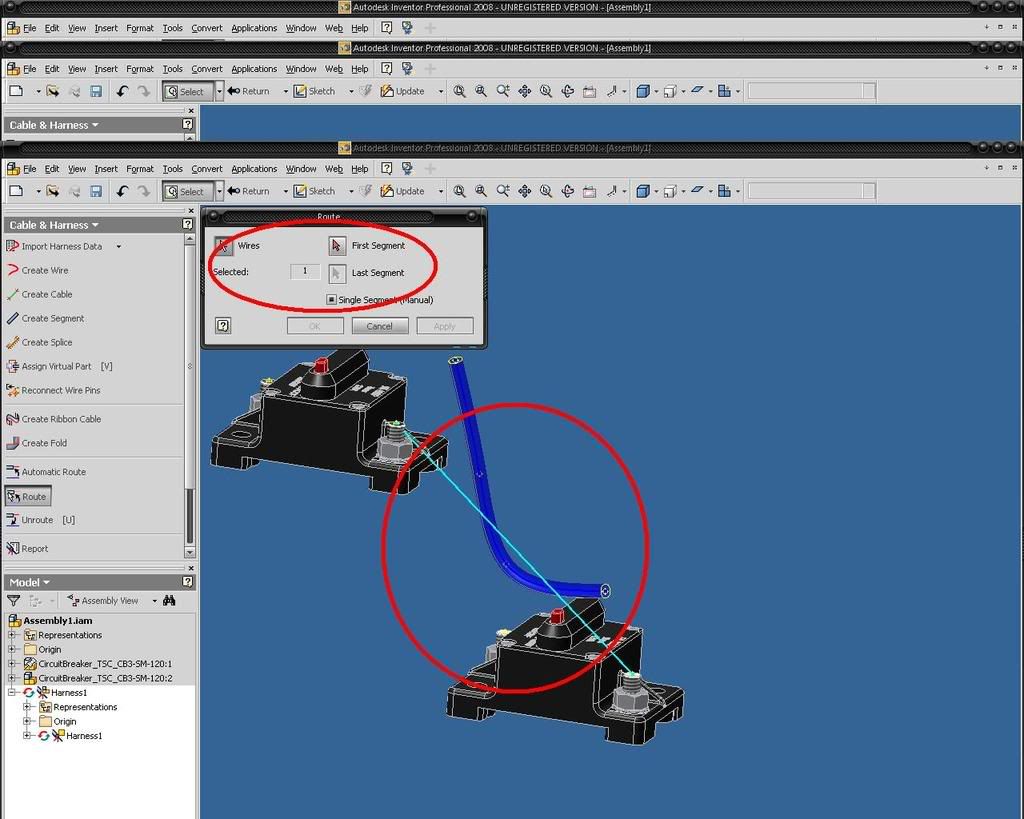 Now that you've highlighted the wire, then highlight the segment you created earlier. Click on apply, and you should get something that looks like this:
**Ok, so you've got to now go and right click the wire, and select Display as Rendered. It should show up as a 12 guage red wire. **
Exactly what we want; except the segment we created is still blue… To fix that, we right click on the segment, and go to Harness Properties.
Go to the tab that says Display. Uncheck the "From Loom" option. There should be a drop down menu, and you should select Red from here.
**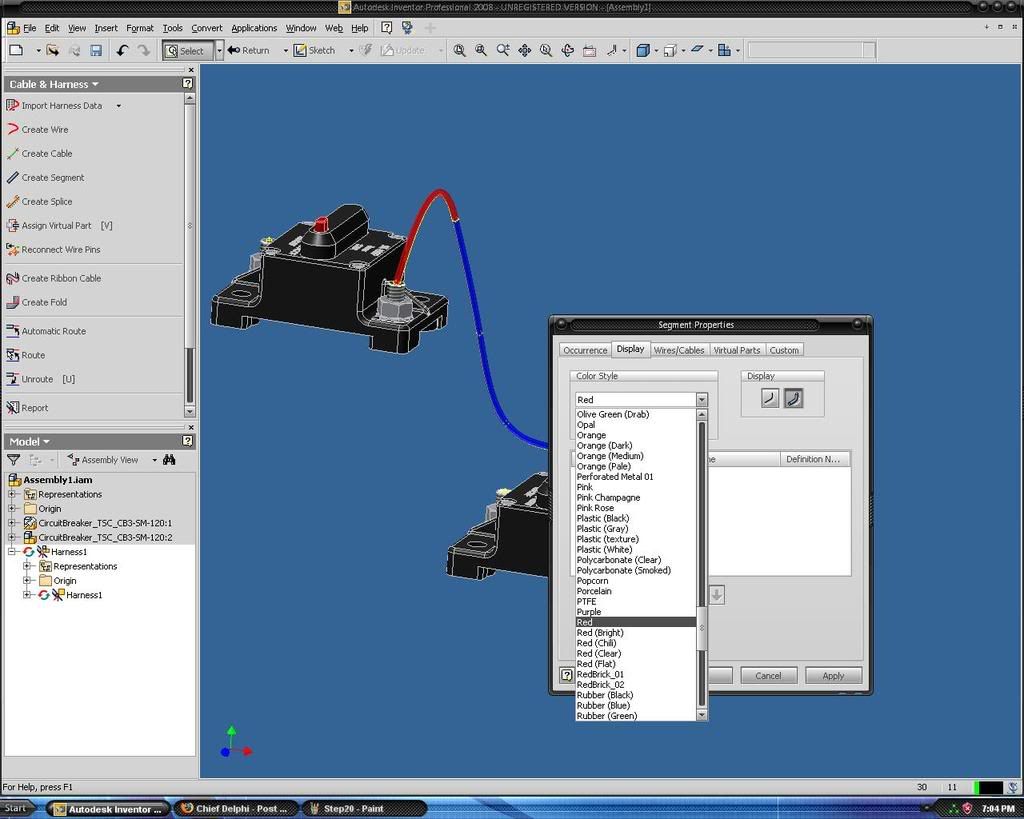 **
Hit apply, and OK, then you should have a fully wired pin to pin!

This can be applied to anything, the sky is literally the limit on this project, as you can even attach wires to stuff such as brick walls… However strange that is.
Anyway, after figuring this out through trial and error, I'm sure that there's multiple ways to do this, probably more efficently than how I did it, but it's perfect for a starting guide.
This is what I've been able to accomplish in the last few hours of meeting time, hope you guys have been able to get a sense of accomplishment out of this.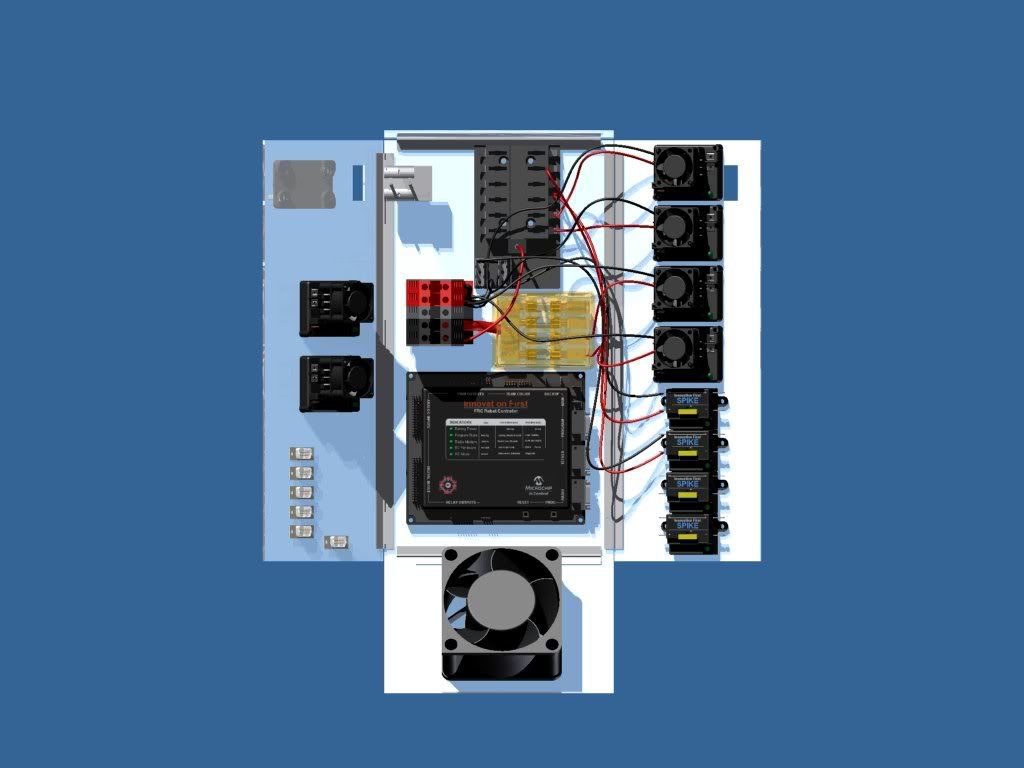 **
-Brett Buchanan**
**
P.S. I've attached the files for download in a ZIP file. The Final is the completed edition.
PSS Edit: All the pictures are in order in a ZIP file also.**
http://thebrokegamer.com/images/Inventor_Tutorial_Pics.zip
http://thebrokegamer.com/images/Breaker.zip