It's been a few years and I had been meaning to update my NY Team heatmap.
For reference, the 2019 heatmap.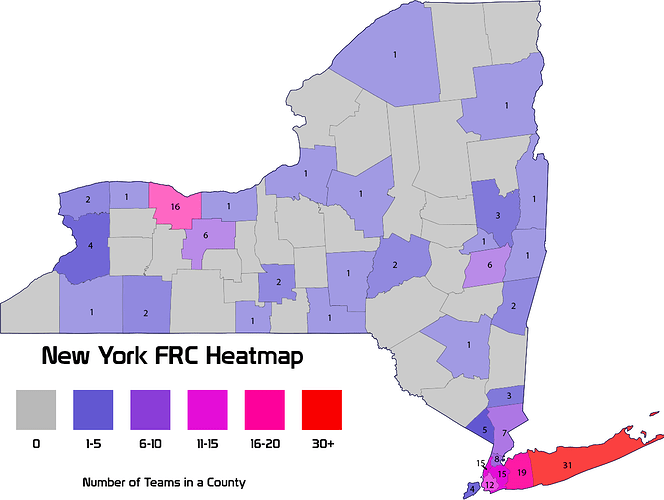 Now for the 2023 season map.

The pin in Nassau covers both the Long Island 1 and 2 Regionals.
The difference in the precovid - postcovid NY:
The loss of the CNY Regional and the Hudson Valley Regional. (which is returning for 2024)
2019 had 178 teams compared to 141 in 23.
The 5 Boroughs and Long Island went from 104 down to 84 teams. (cutting off upstate vs downstate here, as now anything north of the city is covered by upstate NY first.)
Upstate went from 74 down to 57 teams.
Some notes on the post covid:
43 teams have folded since 2020.
6 teams returned in 2023
A few teams registered and never competed (some had placeholder numbers as they became offshoots of teams.)
Some returning/offshoot teams includes:
- 424 (former 340 members)
426 (came from 395?, and registered in 2020 for the Hawaii regional?)
4860 (Former 5202 members? unsure where else they could have gotten a 4000 team number from?)
By my estimate from 2022 to 2023, NY saw 5 teams leave, 6 teams return, and 5 new teams (3 rookies and 2 offshoots).
After registration closes for 2024 I will make an updated map to see how changes for NY as it slowly continues to regrow since covid hindered many teams.