What are peoples general reactions to the Minnesota state competition?
Fun event, congratulations!
I thought it was great! Congrats to our alliance members 5172 and 1816 for the Win!
Personally, I had a great time, and our team ranked way higher than we thought we could. In that same vein, it seemed like there were some teams that had good robots and bad schedules/luck, so they ranked much lower than I'd expect. 1816 ranked 29/36 and ended up on the winning alliance, and 5434 ranked 24th despite having the 8th best OPR at the event (according to them).
Overall, I thought it was run super well, all of the volunteers were all very helpful, and most teams seemed to be having a great time. Congratulations to 5172, 4607 and 1816 for winning it all! It was crazy seeing the 2v3/2v2 match in the semis, and congrats again to 4607 and 1816 for squeezing out a win there as well.
This was definitely the best MN event I've ever attended!
It was also nice to meet @Ryan_Swanson and many other people on here.
It was a lot of fun! Just as competitive as I expected it to be. I think our robot had just had enough and wanted to be done with the season, we were fighting with it the whole competition, but the team handled it well and did their best! Congrats to 5172, 4607, and 1816 on the win, you all did very well. It sure is fun to watch 1816 on defense, their driver is fantastic!
Outside of the actual competition, I thought the music on the field was louder than it needed to be. I could barely hear team mates that were sitting right next to me. Maybe that's just my bad hearing, but the pits were nice and quiet when they didn't have the loud feedback from the microphone (ouch).
It was great! Thanks to our final alliance, 2052 and 4728 for making it to the finals, and congrats to the winning alliance 5172 4607 1816! Can't wait for next year's stacking game

That match was my first time seeing an eliminations match with only 5 robots. I'm curious how historic it was, I doubt there are many elimination matches where two bots beat three, let alone when those two bots do not include the alliance captain!
I'm not sure the best way to try and automate a check for it, even FIRST's official API page for the match shows no sign of 5172 not participating in the match other than the lack of a Taxi, which could have been a software bug.
INCOL SF1M2 between the alliances 1 and 4 was played without 7457, the #1 alliance captain. They won that match and went on to win the event.
It was nice meeting you too (I was the other 4607 guy chatting with you)!
As for 5434, I think they played a role that most alliances didn't need. Looking over our data, it looks like most of their cycling points came from auto. Every alliance had a robot capable of hitting 4+ balls in auto (or multiple teams in the case of the 1st and 3rd seeds). Since only one team can run this auto in the playoff, they don't actually contribute as many points to a playoff alliance as the qauls data might suggest.
It was nice talking with you!
And I understand why 5434 might not have been as high up as expected, but I thought it was interesting seeing teams rank much higher/lower than expected.
Thanks to all the fantastic volunteers who made this event possible! It was the best run event I've attended in a long time.
Congrats to all the teams that qualified for state! It was great competing with everybody and seeing so many great teams in one event.
Congrats to Mark Lawrence, Ken Rosen, and Kay/Olaf Netteburg for being inducted in the Coaches Association Hall of Fame! Additional congrats to all of the coaches of the year for each section.
It was awesome to work with 5172 and 1816. Watching 5172 make the repairs they made between semis and finals was insane. Very few FRC teams could've pulled that off. 5172 has consistently been among the best teams in the state for such a long time.
1816 had some of the best drivers I've seen… when I learned they were only sophomores my jaw dropped. They're set to be insanely good for as long as those girls stick together on that drive team.
It was awesome talking to my friends from 3630, 2052, and 4728 throughout the event and into finals. If you stick around this program long enough you get a chance to play with and against everybody in high stakes matches. In almost any other scenario I would've been rooting for all three of those teams to win!
Congrats to @F0ur13r013 @Sir.Johnie and all the other students, parents, and mentors on 4607. We can finally drop the "Runner Up Robotics" nickname!!! I can't wait to see how the team can leverage this momentum to learn, grow, and improve.
Ended up going 6/10 on my pre-event predictions as well so that was neat

Got it

1 or more teams with an OPR outside of the top 12 will be one of the 4 alliance captains

2823 was ranked exactly 12th so I'm taking a half point here…

1816 will be on the 4th alliance

Super happy to be wrong about this one!

7028 and 5913 will both be 1st round picks

Got it

There will be at least 2 swerve defenders drafted

1816 was the only one which surprised me a bit. I felt like there were 2-3 others that had a good shot.

At least 2 Regional Winners will go undrafted

Got it

Exactly the same number of Greater MN teams will get drafted as metro area teams

This was either 7 metro vs 5 Greater MN or 6 to 6 depending on how you count 7028… I'll take partial credit here

Defense will play a huge role in Qualification matches with alliances intentionally attempting to prevent RP's in matches where they've already locked up a win

I didn't really see this happen like I thought it would

It'll be the most competitive MSHSL State Championship ever, with some really competitive teams going undrafted

I'd subjectively say this was true!

An ~85% Hanger RP seems about right

Ended up being 86% so I'll take it
What was the repair that 5172 had to make?
They had to swap out a motor on their swerve drive and there was a lot of stuff that went into it. I'd defer to them for any other details since I wasn't involved with the repair!
I am extremely unbiased, but I agree. It seems like climbing was a much larger factor in picks than expected. I wonder how/if the playoffs would've turned out differently had teams prioritized a defensive swerve bot over a climber.
I know how annoying that can be, especially in the heat of the moment in playoffs. Amazing quick thinking and change in the time that they had.
After our first semi finals match a few students were checking over our robot and noticed some of the swerve motors were hotter than normal so we did a systems check and found that one of the drive motors had went out during the match (we had no idea during the match). In order to make that switch we had to cut and splice 2 power wires and 4 CAN wires, swap in a new Falcon 500, and swap the steering motor and encoder onto a new SDS motor plate as well as configure the new Falcon with the correct CAN id. We had two timeouts and two matches to make the change and get back on the field. During that time period we missed one match and chose to have 4607 and 1816 go 2v3 against the 2nd alliance assuming we would have to play another match in Semi finals… 4607 and 1816 played insanely well and won the match to advance to finals without us!
Huge thanks to the inspectors who were there to offer us any help and advice during the change as well as the referees who made sure we knew exactly what was going on with the matches and timeouts so we would not get locked off the field. Minnesota volunteers are the best and nothing will change my mind on that.
Also huge thank you to 1816 and 4607 for being our alliance partners. Without a doubt this is an alliance where everyone contributed their fair share and more and I could not be more proud of how this alliance was able to pull off the win.
It was a lot of fun to me nothing beats being able to be down in the pits on the field
The MSHSL Champs were so much fun! I loved how many matches we played in a single day! The fewer teams allowed for some interesting meta strategies that I don't think you get when there are double the teams. Is this what districts and district champs are like??? If so sign me up!
5172, 4607, and 1816 built a MONSTER of an alliance. While our team was deliberating how all the picks would play out, we thought that this would be the one of the worst combinations of teams to play against. Unfortunately, our nightmares came true, fortunately though, those matches were "the hardest fun we've ever had." Congratulations!
A big shoutout to the veteran 2052, we learned so much from you guys! It was fun strategizing and noodling how to actually top the Gators et al. And 4728, see, you DID get picked

(@Ryan_Swanson add one more to your fulfilled prophecies) Thank you both for joining our alliance. It was a bummer of a loss, but we look forward to competing with/against you in the future.
There were some rulings that prevented us from winning finals 1 (see below) NOT AT ALL THE FAULT OF THE REFs (in fact they calmly spent the time to describe the ruling, we couldn't ask for more). I believe the spirit of the rule, however, should not take a climb away from a robot if it's incidentally touching another robot. I wish the GDC wrote the rule such that a robot "supported by" another robot would have climb points taken away. Se la vie!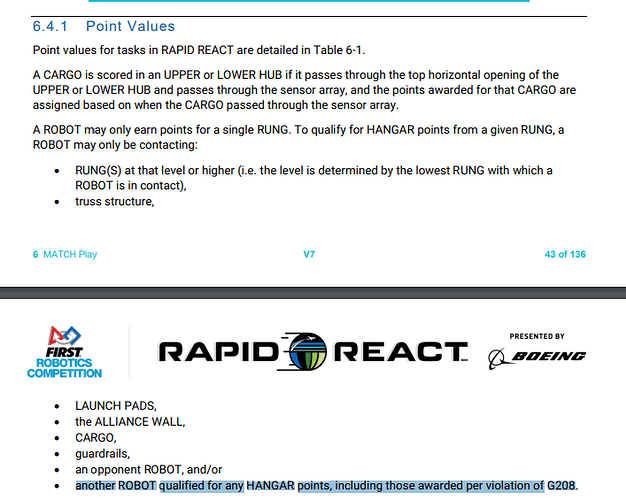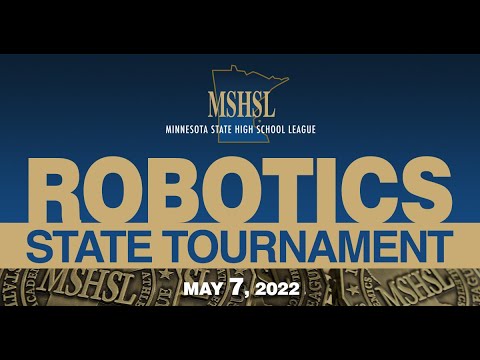 Finally, a special thanks to the refs, inspectors, and other volunteers. We are so fortunate to have you.
I can tell you that a whole bunch of us standing behind the scoring table really felt that. I think the GDC was trying to take judgement out of the equation for the refs on this - I know in the past there's been "supported by" type rules, and those can be tough to call. By changing the wording to "contacting", it really takes most of the judgement out of it, but also leaves us with situations like this. Despite having to make that ruling, no one was happy about it