We're trying to use Motion Magic with the Falcon 500 motor for position control of our rotating arm mechanism for our climb this year. We're having good success positioning the motor where we want to accomplish our traverse climb, but we're now having difficulty increasing the speed at which the arm turns so we can complete the climb faster. We have two Falcon 500s in a leader/follower configuration with left motor following right with inversion of "oppose master".
When I try to increase the cruise velocity and acceleration, the arm gets part way through its rotation then starts rotating back and forth violently before finally reaching its final destination. I also notice differences in speeds reported by each motor despite the left being set up to follow the right.
I believe the velocity we are requesting (716800/100 mSec is below the max for the Falcon assuming using internal encoder and max RPMs). As you can see from the chart, we never get close to the requested velocity. I've set the max acceleration to about 6969 counts/sec. The motors are driving the arm through a 100:1 GB and a chain with a 3.5:1 ratio giving a 350:1 gear ratio.
Here is a plot of speeds reported by the two motors: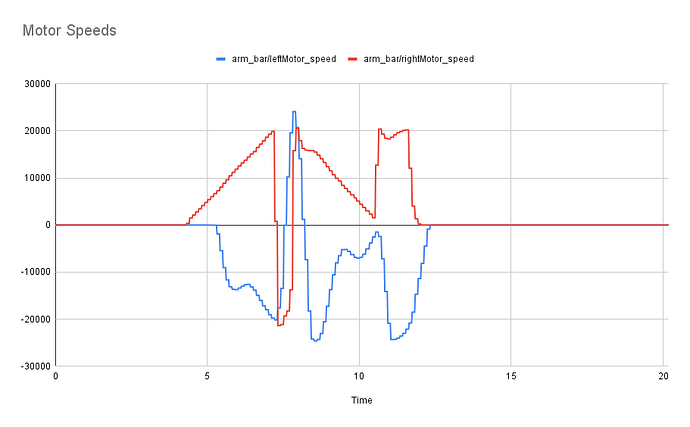 You can see the left motor lags the right and doesn't seem to be controlled in the same manner. When we control the system, we're only setting the position for the right motor under the assumption that the left motor will follow because its following. Both motors are setup with the same configuration with the exception of the left being setup to follow the right.
As a side question, I'm also a little surprised to see the velocities have opposite signs considering they are setup with the left following the right in opposition.
Any advice is appreciated. Let me know if more data is needed.