Today on "How Venkat is procrastinating for his math final," we have a quite outlandish motor in wheel (non-swerve) module that I've been wanting to make since I saw someone do it a couple months back, but I never really got around to it. So then I decided that after taking my Statics final, there's no better time than the present!
Now usually with my weird CAD ideas, my friends usually ask why and I just answer the how, but even now I have to ask why because this is now begging me to iterate on this design until I can produce something reasonable in packaging, manufacturability, and weight. Whether or not I will be able to achieve that is another story but I can keep trying.
Before we continue, I grossly miscalculated the speeds and size of the module, and looking back it's really funny but I plan to fix this within a week or so. This is just a proof of concept that the idea works.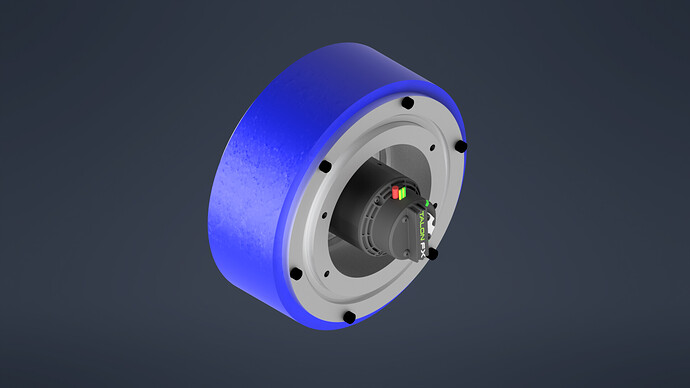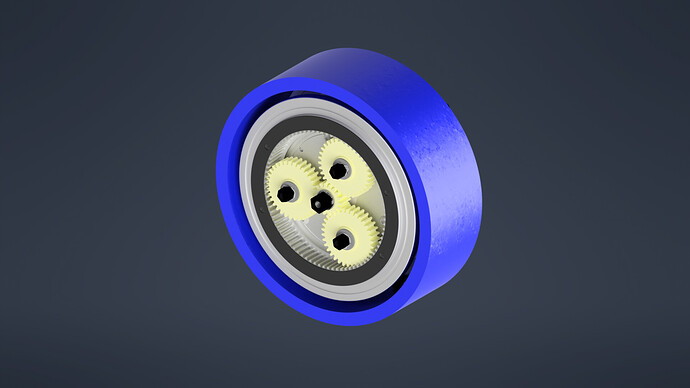 Specs:
6.5" wheel, using blue nitrile tread
Free speed: 28 ft/s
Ratio: 5.25:1 planetary gearbox (18 tooth sun, 34 tooth planet, and 84 tooth ring gear)
Driven off a Falcon 500. Ring gear w/ falcon mounts to a 3"x2" and the wheel is powered around it and rides on silverthin bearings. Another silverthin bearing is set into the ring gear for a secondary plate to cantilever the planet gears.
All comments/criticism is appreciated, as this project is what got me to open inventor after 7 months, and I want to see it through.
GrabCAD link: Click Here