I really enjoyed the Portal on the old Chief Delphi. One reason is because I could select which forums would be displayed and which would not. This meant I could use the Portal as my "one stop shop" for new content which I cared about.
I started liking Discourse a lot more once I figured out how to MUTE categories.
Once a Category is muted, posts from that Category will no longer show up in "Latest" and "New" lists.
(Side Note: IN fact, you can mute specific topics in non-muted categories, and filter things even more…)
To do this:
1. Go to the homepage and click "Categories"

2. Choose a Category from the list which you want to Mute.
(Think of Categories as sub-forums in the OLD Chief Delphi)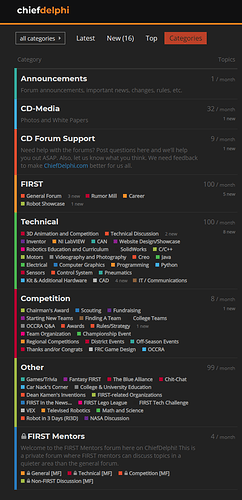 3. At the top right click on the "circle" icon to open the drop-down menu, and select "Muted"
You can see here, I've Muted Fantasy FIRST. Nothing against [FF], I just don't play it and don't want those posts on my front page.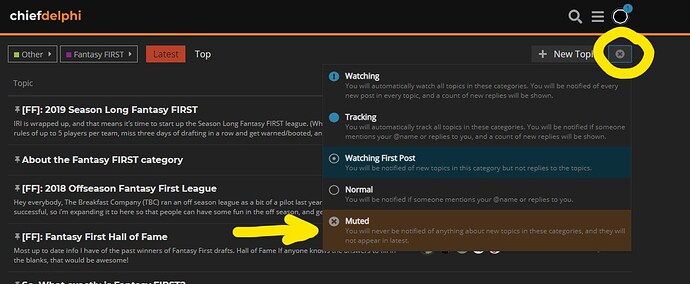 If you ever want to change this, you can edit the list of Categories you've Muted in your Preferences OR you can just repeat this process and change Step 3 to be "Normal" instead of "Muted"
Good Luck in 2019, and enjoy the new chiefdelphi!
-JVN