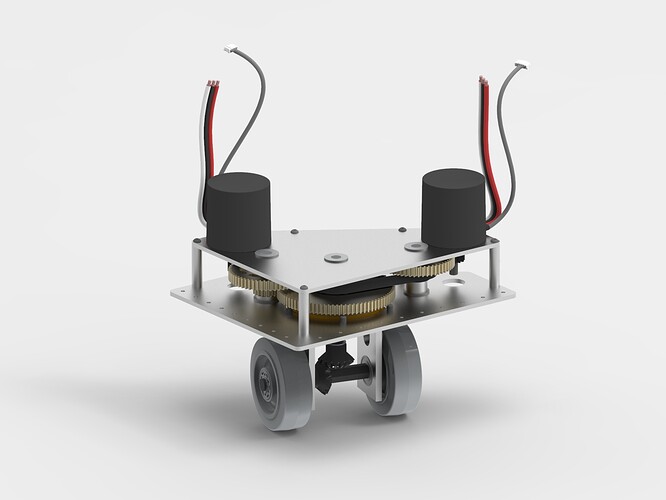 For the last two years I've been doing programming and media on the team. While I enjoy programming a lot, I wanted to try something different for my senior year and I wanted to refresh my CAD abilities. So of course I decided to try and do a simple swerve drive, because why not.
The idea behind the way the module is designed is for it to be manufacturable in our shop (which has a hand operated mill and lathe), at our sponsors (which can provide us with laser cutting, bending and little CNC operations) and stuff that we can get from VEXpro/AndyMark/other Israeli COTS providers. I took some inspiration from the modules of Aren Hill, 1323, 2910 and 2767 among others - I took some inspiration from pretty much every module I saw on CD.
The module weighs in at ~3kg/~6.6 pounds. The steering ratio is ~19.4:1 and the translation ratio is 5.71:1, which according to JVN's calculator suppose to output about 17ft/s unadjusted with the default 3.5" Colsons. While the steering ratio is considered pretty low, 2910 used 18:1 with a NEO and 1323 has 56.67:1 with a 775pro (pretty much the same rotational speed) on their modules so it's supposed to be controllable.
The CAD isn't completely finished - I still have some nuts and bolts to add in and an encoder mount, but overall it's pretty much done. I'd love to hear your feedback about it, but please keep in mind that this is the first serious mechanism I did ever so it's probably not perfect

GrabCAD: https://grabcad.com/library/offseason-swerve-project-1