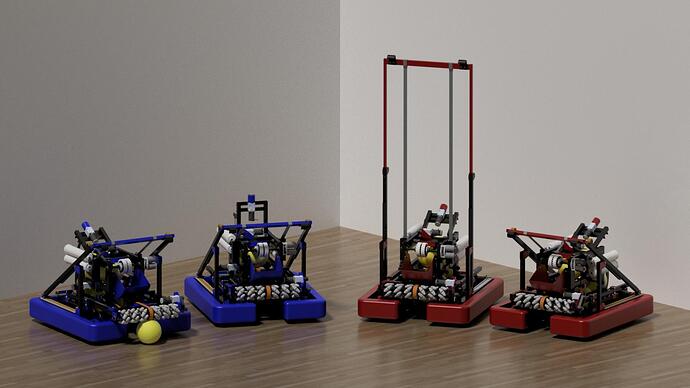 Hello! This is my take on the 2020 FRC game Infinite Recharge. I graduated from Kettering University in 2016 and am now a full time mechanical engineer who does 3D design almost every day. This is what I was able to come up with in my spare time, enjoy!
Weight: ~100 lbs (no electronics currently mounted to it)
Starting configuration: 27" x 32.3" x 27.75" (Long Kit-bot drive base), designed to fit under the control wheel.
Mechanisms:
Extendable ball intake reaches 8" out from the robot perimeter to collect power cells. Uses mechanums to bring balls to center opening where the conveyor system starts.
Conveyor system would be indexed using photoeyes or other sensors to keep ball spacing preventing the power cells from jamming or stacking on one another.
Ball launcher has two 4" wheels and is run by two 775 pros at a 3:1 reduction mounted using the vexpro female 1/2" hex adapter.
Control wheel spinner pops up using a 5" stroke cylinder when needed, and folds out of the way when not in use.
Climbing mechanism is a 2-stage telescoping arm that extends up to 71" (bottom of hook) and is then retracted using belts on a spool.
Unfortunately I do not know much about the electronics of a robot so this is just the mechanical design. (I'm sure some guru out there could get this thing running)
Hopefully this will give teams that are struggling some inspiration and ideas to pull from. I'm sure that what I have here can be improved upon, given that none of these mechanisms have been prototyped and they are just theory at the moment. However I did make my best effort to stay withing the design constraints of the game. Please let me know if you notice anything that doesn't fall under the rules.

Have a great season everyone! I can post a more detailed doc going over each mechanism in greater detail with close up shots if you all would like.