Team 4909, Billerica Bionics is proud to announce that we will be hosting the inaugural New England Robotics Derby (N.E.R.D.) off season competition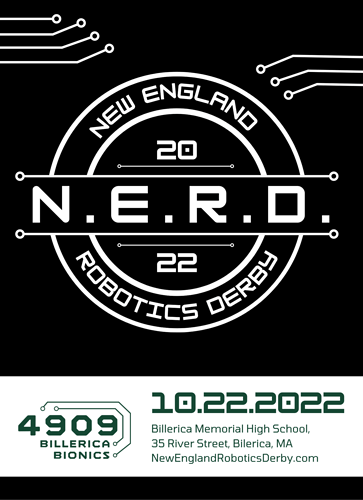 On:
October 22th, 2022
At:
Billerica Memorial High School
35 River Street
Billerica MA, 01821
Cost:
Registration fee: $250
Registration will open on July 20th at noon Eastern N.E.R.D. - Team Registration
Volunteer Registration
N.E.R.D. - Volunteer Registration
If there are open slots with a month left (August 24th), we will open up the remaining slots for 2nd robots at $150
Our team is ordering a number of merch and apparel items, we would like to extend our volume discounts to you. If you order before July27 for 20% off using code RRPREORDER
N.E.R.D. Merch Shop
All items will be available for pickup at the event on October 22nd.
For questions, please contact bbourque -at- billericak12.com
Hope to see you there!