This year's NE FIRST University Day in Connecticut will take place on Saturday, Sept. 7th at Central Connecticut State University (CCSU) in New Britain, CT, from 8 a.m. to 4 p.m. All FRC mentors, students, and volunteers of any state are free to attend these classes.
[This thread will be formatted as to previous posts made by @darkangel and @dag0620, thank you!]
Registration: Lunch will be $10/person and must be reserved in advance, then paid at the door. Registration and Lunch Reservations can be made on Eventbrite.
Registration Link
Facebook Link
Schedule:
8 a.m. - 8:45am - Sign-In/Coffee (Memorial Hall)
8:45 a.m. - Opening Ceremony (Memorial Hall)
9 a.m. - 11:55 a.m. - Morning Workshops (Copernicus Hall)
(Schedule Posted Below)
12 p.m. - Lunch (Memorial Hall)
1 p.m. - 3 p.m. - Afternoon Workshops (Copernicus Hall)
4 p.m. - Departure
Workshops: Our confirmed topics for FRC include community outreach, fundraising, social media, project management, and scouting. A full list of presentations and presenters is found below. (Also little plug, but I'll be there presenting the Developing a Team Business Plan, come check it out!)
FLL and FLL Jr. is all sold out, but there is still room for the FTC Kickoff! (If anyone would like to clarify details such as the location for it, let me know and I'll add it in the post!)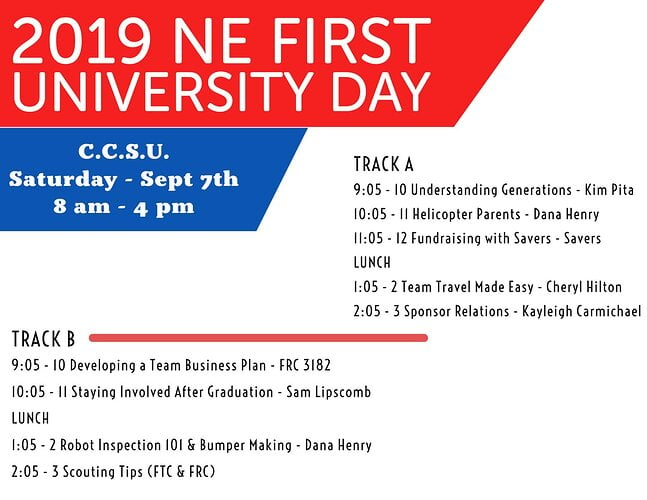 Questions: Any questions can be directed to Mike Gentry at gentrme@comcast.net.
Updates subjected to occur with any new information I receive. If you have some information not covered here, let me know!
Hope to see you there!