Just saying, I did not order stuff through VEX.
Not my problem, but … Allowed motors in FRC are listed by vendor part number in the rule set. "Falcon" motors without the appropriate part numbers are not legal. I don't think the GDC would approve of using counterfeit motors or non approved reversed engineered motors.
I can't believe we're in the age of talking about counterfeit motors

Counterfeit parts are a reality. A lot more common than you may think. I don't really have a problem with companies reverse engineering a product. When you represent the product as a product from a different manufacturer, it becomes problematic.
I am making an observation. I don't have any details of how the motors are bought in this specific case. I don't presume that I do.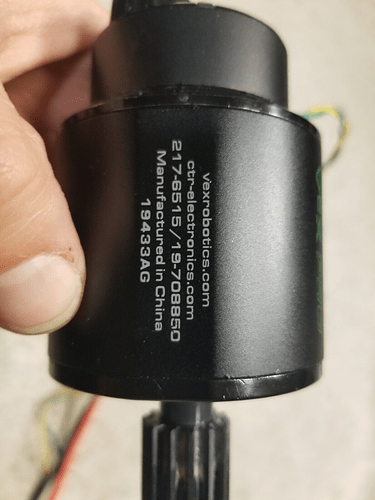 It is real Falcon 500, they are not counterfeit motors and the PN is 217-6515, which is on the approved motor list.
There's also instances where a customer will ask the manufacturer to put a part number defined by customer on the part so that they now have a "unique part that cannot be purchased elsewhere ".
Well, I'll see in about 8 weeks. If it is counterfeit or not from the origional, accourding to the contract and PRC law, they will be fined 10 times the amount I ordered. Thank you for your reminder.
I assume u/op means they didn't order through Vex's official purchasing channels, but did procure what is by all definitions a Falcon500 motor. Vex doesn't put on a sticker of authenticity or anything when they officially distribute motors. Some bearing manufacturers do this, so that the production line doesn't have their hands on the holographic/QR code stickers.
Could be third shift, fell off the back of a truck, cosmetic QC reject, motors pulled from the line to be tested and discarded after verifying, etc.
I'm curious if this is just being communicated poorly, and OP actually ordered through an official channel but needed to dig deep to find a contact and/or a contact willing to let them get to the front of the line.
My information is a few years old, but at least for VEX EDR and IQ, distribution was licensed/outsourced/etc. to certain companies in different parts of East Asia. I personally know (err, briefly worked for) the owner of the old distributor for South Korea. I'm told that a few years back the rights for South Korea had since been given to the larger company that also handles China.
It will be interesting to see if these unofficial distribution channel motors will work with Phoenix Pro.

It's true, actually the largest distributer of VEX in Aisa is the BDS electronics in Guangdong, China, which manufactured most of the VEX products.
4926 used the 3D printed Blocks on TWO Thrifty climbers for about 100 Rapid React matches, And our design was not easy on it. We got the Delrin blocks to replace the 3D printed ones but we were too lazy to do the swap because they just kept working!
Hello, Today marks 7 weeks from this post. Any update on your motors?
Going through the Chinese customs tomorrow, and since China just opened up, many people got COVID, therefore there will be delays
rly?We Chinese guys in China (not me, my former teammates, I live in the US now.) want me to buy some vex stuffs by using my US dollar credit card and bring them back to China.
I guess u have to wait until Jan 8th when the restrictions gets lifted lol
Good luck in the "sheep herd"!
then I found this topic owner is someone I did know from China FRC…
Poking again on week 11, have your knockoffs been delivered?