Hey y'all!
Quick introduction — we're Copperforge, a new supplier in the FIRST scene, run by @benjaminward and @solomondg. Our goal is to eliminate complexity while increasing the performance of competition electronics, helping teams make more reliable and capable robots.
We're starting out small, but have a lot of great things coming down the pipeline soon **— well, we're of course biased, but we think they're pretty cool.
For now, we're releasing the Lasershark, the easiest distance sensor you'll ever use. With 12ft LIDAR-based ranging and easy, roboRIO-compatible PWM output, we're hopeful this'll replace the inaccurate and buggy IR and ultrasonic sensors teams have been stuck with.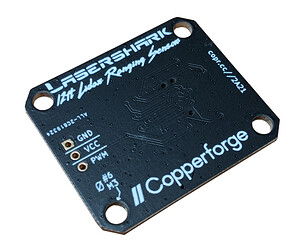 The Lasershark's powered by the STM VL53L1X Time of Flight distance sensor — essentially, we send out a few zaps of (FRC-legal!) laser light and measure how long it takes to bounce back, which gives us the distance to an object with centimeter precision. However, the Lasershark's more than just a breakout board — the sensor's coupled with an onboard microcontroller, allowing us to fill this thing to the brim with additional smarts aimed at improving performance and reliability, from ranging parameter optimization and signal filtering to error detection and ambient light compensation. The only thing it won't do is calibrate your turboencabulator! Toss one on the front of your bot to get your distance to a game piece, use two to align to a wall, or even use one to zero an arm or turret — there are plenty of things you can do with truly accurate distance measurement.
Plus, we've got two solderable jumpers, one to minimize the device's field of view at the expense of some ranging ability, and the other to disable all the onboard algorithms and just forward raw sensor data. And LEDs. Did I mention LEDs? We got those. They blink.
Orders are open now, and documentation is available at copr.cc//2A21 (that's right, even our URLs are cool). Shipping will commence in about a week and a half, by the 14th at the absolute latest.
We hope that this turns out to be the first of many products that'll help you all do what you do best — build robots. We've worked pretty hard getting everything to this point, so we hope y'all like it! Expect to see some more stuff out of us real soon.
— Ben & Solomon