Hi, I have recently preformed a roborio recovery to be able to udate the firmware and the roborio image. Currently me and my team have hooked up to the roborio a radio, CAN devices and an RSL. The radio's WiFi siganl appears on our laptop however when I connect to it and open the driver station application, the robot communication indicator is red.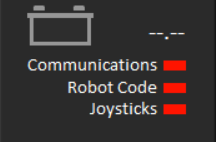 when I try pinging the gateway address using CMD it reads:
Pinging 10.46.61.1 with 32 bytes of data:
Request timed out.
Any idea on what could be the problem?
Thanks in advance.