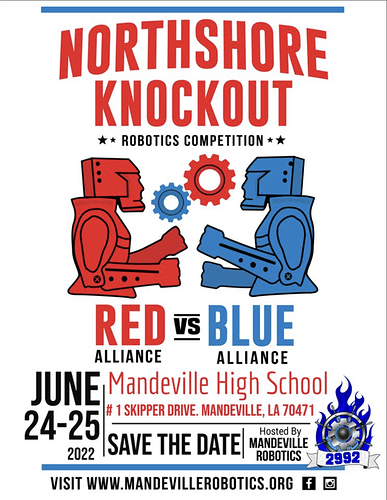 Team 2992 the S.S. Prometheus is proud to announce and open registrations for our Inaugural off-season event, Northshore Knockout. (We had this event ready to go last summer but had to cancel at the last minute due to Covid's Delta surge).
Event is a 1 day off-season event, Saturday June 25th. Teams will be able to load-in and practice Friday afternoon. We will be hosting informational seminars Friday afternoon, and having "fun" event matches Friday evening with "heavily modified" game rules.
Registration is now open here.
Registration fee is $200 per team. We will accept secondary (or beyond) robots on a space available basis at the cost of $75 per additional robot. We are capable of accepting up to 24 robots at this event.
Further details, including event rules, logistics, and safety protocols may be found in the Northshore Knockout Info Sheet.
We will update this thread and the above document as additional details are filled in.
We look forward to seeing you "on the carpet".
Team 2992
SS Prometheus
Mandeville High School
Mandeville LA USA