We bought some QMIC-0N-0A NPN retroreflective IR photogates: https://www.automationdirect.com/adc/shopping/catalog/sensors_-z_encoders/photoelectric_sensors/dc_rectangular/retroreflective_(qm-z-cx-z-fe_series)/qmic-0n-0a
The spec sheet can be found here: https://cdn.automationdirect.com/static/specs/peminirectqm.pdf
Since we have 3 on the Robot, we wired them up to the RIO DIO 5V rail with a small boost converter to 15V.
I know that the RoboRIO DIO has a 40kOhm pullup resistor to 3.3V (page 15 here http://www.ni.com/pdf/manuals/374474a.pdf)
I also know the RIO needs 0.0 to 0.8V to read low on the DIO, (page 4 Product Documentation - NI) so any NPN sensor should work. This is in line with the sensors we get in the KOP, other threads on CD, and what an EE told me.
However, when I wire the sensor as shown: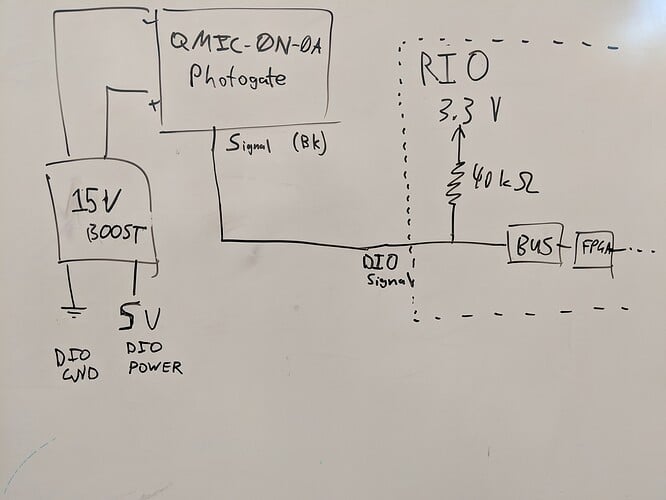 Code cannot read the sensor. When I probe the signal line between the sensor and the DIO, I read either 3.3V (expected due to the pullup) or 1.3 when the sensor is triggered, not low enough to trigger the DIO.
Since I don't know the internal workings of the sensor, I decided to try adding a 100kOhm pulldown to GND, as shown: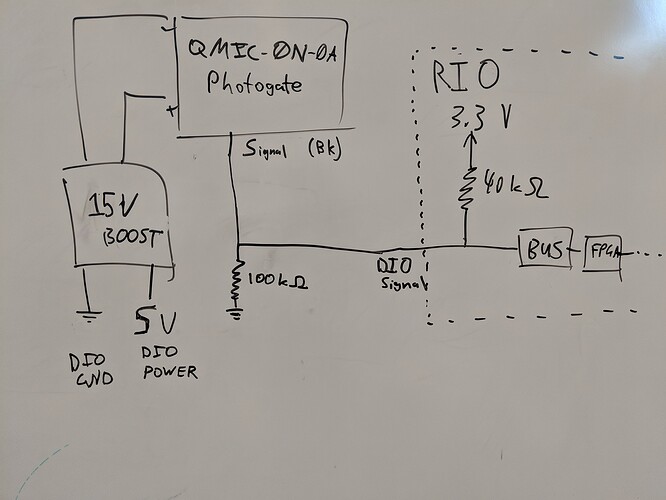 This pulled down the high voltage to 2.4V, but when the sensor triggered, it would again read 1.3V. (I didn't do this test on an actual RIO, but I created a test setup that is equivalent to the above. The first result that showed 3.3V and 1.3V was verified on the test setup)
My only other idea is to add another NPN transistor that would do a better job sinking current than the sensor would. The sensor would trigger that NPN transistor. But, I'm not sure if that would work or even how to go about it if it would.
How can I get this thing to work with the RIO?