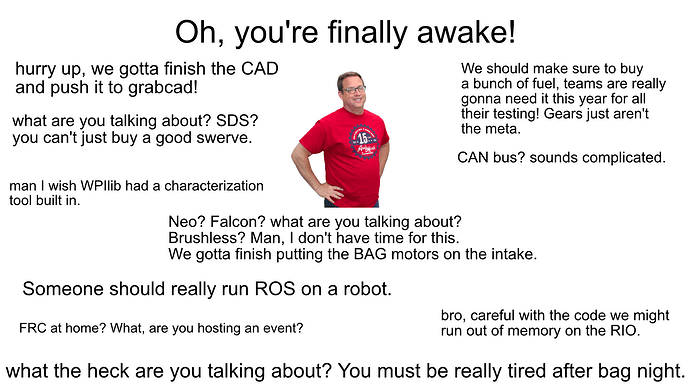 Given this spicy meme, what are some things that FIRST participants 5-10 years ago wouldn't believe happened that did happen?
bro, careful with the trig we might run out of clock cycles on the whatever hardware we used in 2002
Bag day? What's that? We had to ship our robot in a crate to every event.
We're going to get to test out the new cRio this December!
No limit on CIMs this year. Robots are going to be too powerful.
FedEX pickup time for the crate. Drill motors are super useful.
The only way to see where you're ranked was walking down to a TV at Pit Admin.
Better start that VCR player before the starts match to get match video for review.
I am sorry to inform you all making ship day jokes but "5-10" years is 2017-2012
Anyway, we need to finish our entry for the FRC Parody Contest!
254 dominates with a West Coast Drivetrain every year. No way they'd ever run anything different.
I remember when Einstein was just a field with a lot of stands, rather than a renaming-of-a-field for playoffs. (Sorry, "eliminations")
We reject your definition of "old people" and substitute our own.
File cards are the future of drivetrain dominance!
Now let's ghost Mandy Moore and find some FIRST bottled water so we don't die of heat stroke.
Sykes event sim? What gibberish are you talking about? Anyways, as I was saying, I can't wait for Ed Law to drop his 2834 scouting database this week to see what teams are the best so far this year and then using FRC Spyder to predict the upcoming matches!
I programmed my first FRC bot on Basic stamp, and the drivetrain was literally drills zip-tied and drilled into plywood.
A little more than 15 years ago but anyone who would have told me in my rookie year that 5 to 6 minutes between one match ending and another starting would be normal I wouldn't have believed them, at the time we would have full competitive MTG matches in between qual matches with 0 issue.
Can't wait to see which sport this years game is based on!
And? This is "old people" after all.
Kitbot? You mean that pile of metal and those plastic gearboxes?
Nothing makes me feel old quite like 5-10 years ago being called "old".