This thread has two purposes: to warn you about using omni wheels on your robot this year, and to solicit any suggestions to mitigate these dangers.
We used 4 omni wheels (https://www.vexrobotics.com/omni-wheels.html 6 in) on our drivetrain this year, because having a consistent center of turning was quite important to our software folks. After dropping our robot of Level 2 last year without issue, I guess we assumed the omnis would be fine. To be sure, we ran our 40lbs test chassis over some 1 in bars many times, without issue. We have blue nitrile tread on the center wheels.
Well, we just got back from our Week 1 competition, and the results are in: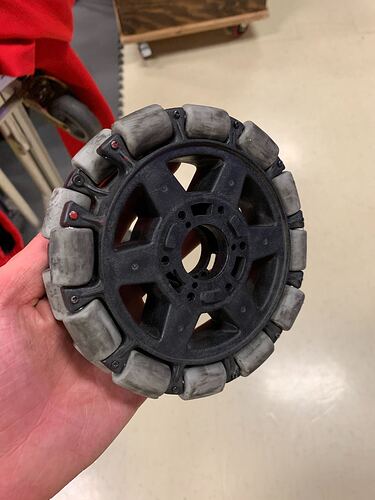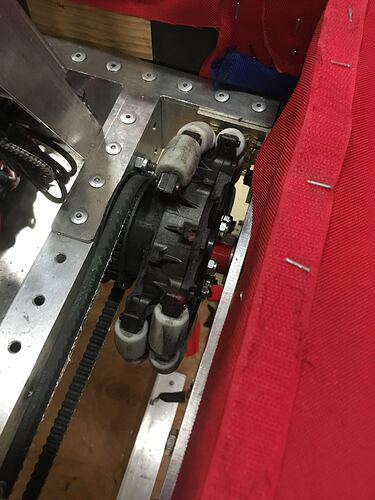 On Friday afternoon, we noticed that some of the rollers on the wheels didn't spin well. They got progressively more jammed over the course of the day, and then they began to break. Top picture is of one of these wheels. Seeing this, we decided to swap them after our last match of the day.
The next morning, we rolled out onto the field with brand new, never used omni wheels. 8 matches later, they looked like the bottom photo. The back omnis, which had more weight on them, each had several rollers broken off. The front ones had all their rollers, but some of the rollers were jammed and wouldn't roll, which seemed like a precursor to breaking based on our experiences the previous day.
Steel 1 in Bars: 8, Omni Wheels: 0
The driving worked fine on the broken omnis, except for the fact that our autonomous seemed to be less accurate and our driver thought the driving felt weird (although those could be unrelated software issues). However, it seems like once one roller breaks off, the ones around it do as well, so letting this process go on for too long seems dangerous. If we hadn't been able to swap them, I'm not sure what would have happened.
We're currently brainstorming ways to get around this issue for our next competition. Have any other teams experienced similar issues, and if so, what did you do to solve it? Right now, we are leaning towards getting rid of the omnis, but if anyone has any suggestions for more durable omni wheels or anything else, we would love to hear it.
If you have omni wheels on your robot, you might experience this too, so beware.