Which one (outboard, inboard, in tube) does your team use? What are the Pros and Cons?
Yes.
What have you discovered or thought about? Can your partly answer any of your questions?
We prefer in-tube for safety and durability reasons.
What about maintenance?
I can't find a thread that compares all of them.Note that I don't have experience in custom chassis
Definitions: "outboard" is chain next to the wheels, "in tube" is chain actually in the tube, "inboard" is chain at the gearbox?
We've done both outboard and inboard. Inboard is handy to reduce the distance from the wheels to the rail, which reduces the sideways torque on the rail bearings. We did outboard with belts, because replacing a belt is so much easier.
We run inboard #35 pitch chain on our yearly custom WCD and it is very nice. Easy to maintenance if you #HexshaftEverything and build around it smartly.
We didn't need to do any meaningful maintenance. Swapping wheels was done independently, and there were two ports through which we could lubricate the chain with a spray bottle. The chains were protected from basically everything by virtue of being inside a tube.
We are not the only team to have such an experience with this approach.
Inboard. Chain is shielded, but also easily maintainable. No need for precision machining for exact C-to-C or custom bearing blocks, as COTS bearing blocks are adequate for these purposes.
We did in-tube in 2019 and inboard in 2020. I can't think of any reason to do outboard. Barring special considerations, I prefer in-tube due to the protection, but we have sufficient manufacturing capabilities to make them pretty much as easily as inboard. YMMV.
We do inboard and it's… fine? It falls into the broader category of things that I won't fix because they aren't broken. Chain-in-tube is great if your manufacturing is precise enough for it, because you have to hit within a few thou of the center-to-center distance that you're designing for. You also get a bit more space to work in if you go CIT which is nice, but serviceability suffers. We haven't thrown a chain in a while, but if you do throw a chain, it'll be a nightmare to replace in the pit.
Actually, you don't need that kind of precision, just mount your bearing blocks in slots and use a nautilus cam to tension perfectly (this is our 2020 robot [so inboard], but the setup is pretty much the same with the sprockets in the tube).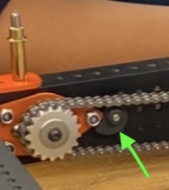 Yeah, that's what we do with out WCD (inboard) design. Most (all?) CIT designs I've seen have the bearings in fixed holes rather than sliding blocks.
It works just as well with CIT. We use lots of bearing blocks all over. They just make your life easier.
My team has used all three methods with both belt and chain. Our 2020 robot has outboard chain. The choice comes down to where you need the room, and what kind of training will benefit the current crop of students. Don't be scared to use any of them.
I'm curious what decisions lead to an outboard chain?
We have an elevated pan (brain pan) that meant we didn't have room for the chain on the inside. Our dimensions this year also meant we needed less side to side stability so it just worked out
What are your robot's dimensions ? What dimensions are recommended for outboard chain? Why did you chose outboard instead of in tube ?
I'd have to go back and look, but we are really long and fairly narrow, like 36x22. CiT wouldn't work because we ran 4" wheels with 2x1 tubing, so we used exact c-c milled holes and put them as far to the bottom as we could. Hang on let me find a picture
I've done outboard chain twice, in 2017 and 2019 on Apex 5803. Both of these were driven by packaging and manufacturing decisions. Putting the chains on the outside made the gearbox configuration and mounting simpler because you don't have to deal with routing chain or belt around gearbox standoffs. It also provides a clean inner surface for mounting cross-beams or mechanisms to. The drawbacks are that it makes the bumper frame a little trickier, and the chain might be less protected. We never had issues with the chain on the outside and I wouldn't hesistate to do it again.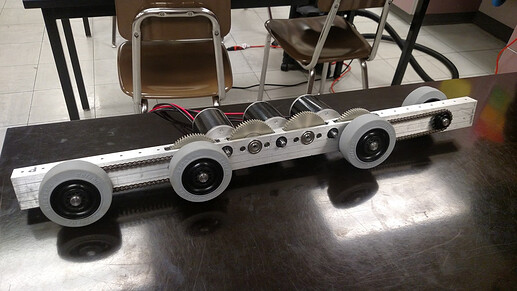 We've been running inboard belt since I was but a wee freshman lad. We've found it to be extremely reliable as long as you… and here's the kicker… select the right tooth profile in the c-c calculator. (this is where I would @ the person who did this… but they aren't on CD so oh well)
Seriously though, they're extremely durable and don't stretch like chain does, so as long as the C-C is right and our router cuts the rail right, everything just drops right in and doesn't need to be touched for the rest of the season.
We're such big fans of belts that we even made a gearbox using them and ran it for a season.