Thread created automatically to discuss a document in CD-Media.
2337's Lift/Hoist Design - 3 Shaft Toughbox
by: GDG 2337

Here is an updated version of FRC Team 2337 2011 Lift/Hoist design

As part of the GM "Pay it forward" initiative, to provide a resource library for Rookie Teams, here is an updated version of FRC Team 2337 Lift/Hoist design, basically a 3 shaft Toughbox. We used a version during the 2010 season, with an expectation to lift multiple 'Bots. This was a strategy choice that looked very impressive on a Practice field. Proved not to be practical in Completion, which is why gear spacing was designed for alternate ratios. We used a lightened version for the 2011 season to raise and lower our arm. For those of you who watched our 'Bot, the arm did move faster at each event. We swapped out gear ratios as the Drivers became more experienced, ending up with an under 2 second lift at full throttle for Nationals. This version uses all the same size large holes to fit AM 1.125" 3/8" round or hex and ½ inch round or hex bearings. The motor mount holes have been moved slightly to accommodate Cimulators (we found out the hard way they hit the bolt heads). To change ratios we bought ½ keyed to 8mm keyed shaft adapters from AM to use a 17 tooth SS output gear as an input gear. We got ½ hex to 3/8 hex shaft adapters from NC Solutions an EDM specialty shop in Grand Rapids, MI to use output shaft gears as counter shaft gears (we made the originals out of aluminum). Some of you may remember the old AM shifter (now called Gen 1) using one of these.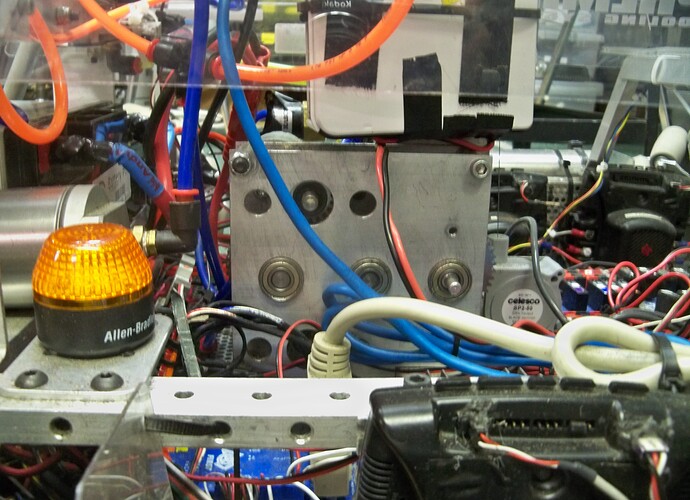 FRC 2337 Lift.pptx
(248 KB)
FRC2337 lift plate .DXF
(52.1 KB)