Been a couple of weeks, but some updates.
Meetings
summer meetings are going to be more limited than we initially thought. Long story short, we wouldn't be able to have adequate A/C if we meet in afternoons. We're going to do some virtual meetings on Friday evenings largely (maybe entirely? We'll see) based off of Orion DeYoe's excellent thread and training materials
Driver Station Set up
I bought some extension cables and power strips to be able to have a permanent power set up at every driver station. This will hopefully prevent some commonly re-occuring trip hazards, make it more likely to have laptops charging in our laptop cabinet (by having duplicate chargers permanently in the laptop cabinet), and make it more convenient when we have guests over to practice on the field.
6x power strip with USB outlets too for phone charging
2x 35ft extension cable with an outlet every 5 ft
1x 50ft extension cable because we have only one good outlet available for the field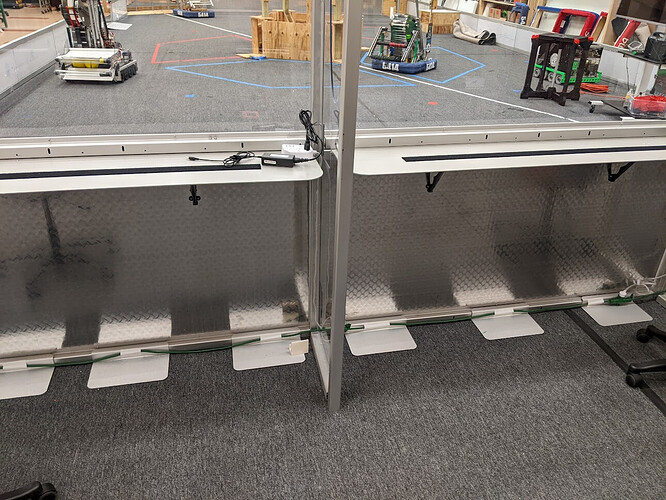 New Work Tables
Some students made adjustments to our work table design, tore down and old one and rebuilt it. I forgot to take a picture of it, but it is not 4' x 4', has space on the floor shelf for KOP totes and space on another shelf for sterilite bins. We had some pretty ugly wood exposed for the table top, so right now some saw dust and wood glue is sitting in some cracks and knots to give us a flatter surface. We'll see how that stands Saturday and hopefully sand it down.
Storage organization
Some students started making a list on that on how to organize the parts. There's still more work to be done on the planning part of it, and hopefully I'll have something to share Saturday for that as well.
New students
We also had a bunch of (at least 15 but could easily have been more) new students start joining our meetings, which is fun but always a challenge to manage. I did not do a great job of planning for them last Saturday. This Saturday will have some more structure for new students that want it, with some 30-45 min training rounds, one round for measuring and cutting things on the bandsaw and the belt sander, one for similar stuff with the vertical bandsaw and drill press, one for programming the romi's, and one yet to be determined thing…maybe power tools? We'll give some hands on time on each of the tools.
That's probably it for updates for now. Hope to share more pictures and plans soon.