In today's meeting, we started work on 2 more tables and got those mostly done. we've also begun assembling the swerve robot that I mentioned in my last post, after finishing up the last few parts from the previous meeting I started work on "upgrading" the CNC, mainly how we mount and work hold things, and now I will spend way too much time talking about it because that's all I did today and I'm excited to try it out. Up to now, we've been using double-sided tape to work hold basically everything and it works great to keep things from moving. Still, we find that it can throw off our Z accuracy as well as stick to tools and makes them worse at chip evacuation, as a solution we're installing some #10-32 screw to expand inserts into the HDPE spoil board we're using. we plan to put them in a regular grid pattern so that before we cut out parts we can go through and drill through holes that will let us screw the parts down.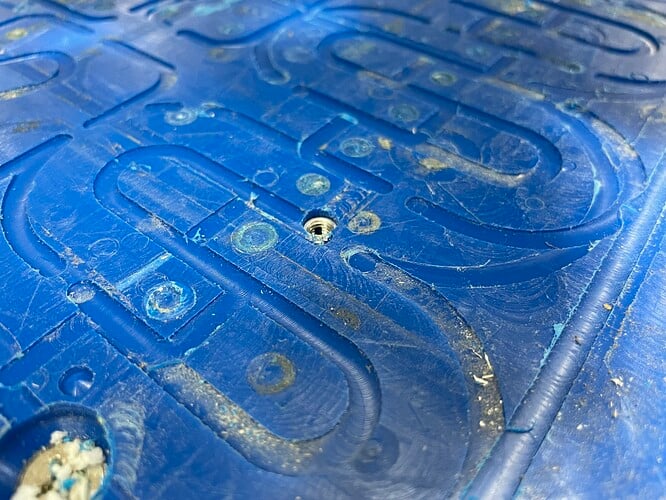 That should allow us to deal with most of our plate material as for tubes we have an Ozzy Board TubeMagic (v1) and after taking a test indicator to it even with all the surfaces parallel we're still seeing about 10 thou run out over 6 inches and in some places we're seeing 10 thou over an inch. we don't really like that for some of our more critical machining for things like belt and chain C to C's. As a solution I made some
CAD of eccentric cam's
that can be used to hold tubes, this in combination with a set of dowels we already use to index sheet and plate materials these cams in combination with the aforementioned screw inserts should let us machine both tube and plate without me having to spend an hour tramming the tube jig. which I like because it makes less work for me

.