NEW - FOURTH Session! Team Spyder and PHS SWENext would like to invite you to our FREE Third Annual STEM Career Series fourth of four session on August 11th, 2021, at 5 pm with presentation "Inspire the Future" featuring Rohan and Arya Bosworth as our keynote speakers. Rohan and Arya are members of FTC Mechanical Advantage 16884 that were the winners of the FTC Global Innovation Impact award sponsored by Qualcomm. Hear about their journey and what it took for them to be successful in developing their Pathfinder innovation!
Use the QR Code or link address to register: https://forms.gle/oFGHh7f7Sdrir6Dv8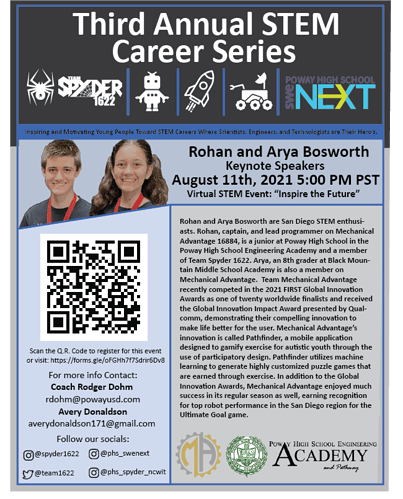 If you have any questions, please contact Avery Donaldson at averydonaldson171@gmail.com.
See you there!