NEW - SIX Session! Team Spyder and PHS SWENext would like to invite you to our FREE Third Annual STEM Career Series, six of eight sessions on September 8th, 2021, at 5 pm with presentation "Inspire the Future" featuring Joan Melendez Misner as our keynote speaker. Joan Melendez Misner (@yourfemaleengineer), a native of Orlando, FL., is a Integration Engineer in the Space Industry working on management of space and aeronautical flight systems for all non-crewed and scientific missions. In her spare time, Joan volunteers throughout the community and is fully involved with STEM Outreach Programs, including judging robotics competitions, mentoring middle/high school aged students, and participating in the "Women in Math" events.
Use the QR Code or link address to register: https://forms.gle/duRHJmBD8JDY9fGf6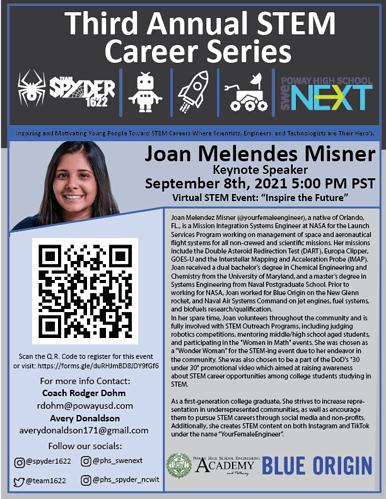 Can't wait to see you there!