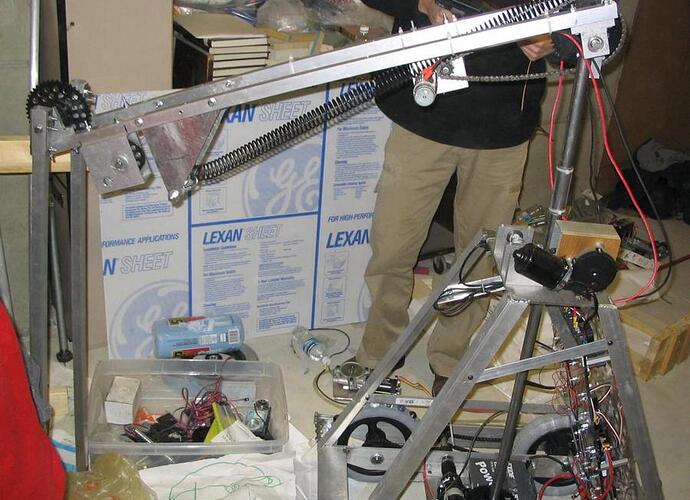 Not much new in this pic but the re-done wheels are on (still marbles, we will look into the legality and whatnot).
A better shot of the arm in its "being worked on" pose. As you can pretty easily see, both segment of the arm is controlled by a globe, with a spring (thanks to the new rules, all we have to do is convince a judge that it is safe!) which helps the arm (it was in the original design, its not a last minute "oh no, it doesn't work!" add on. The spring's mounts will be beefed up to prevent breakage there. As a safety mechanism we will also run a steel cable through the inside of the spring and anchor it to two places that won't fail if the spring mount gets hit by stray hypersonic projectiles, so that when the spring doesn't break off, it will stay in its position and won't go anywhere.
You can also see the sprocket that drives the rotation of the arm, and you get a better idea at how we did that without a crazy bearing. also visible is the winch, electronics board mounting is more evident. You can see the battery, a better view of our standard drive train, arm workings (other than the spring).
We plan to neaten the wireing to the arm motors, to add cross peices to the arm (although they haven't really been nescessary as of yet. keep your fingers crossed. Again, comments are welcome, but please don't tell us the wheels won't pass inspection if you have already. We've gone over those rules and done tests and don't forsee a conflict, although we will be prepared for one should the inspector decided that our wheels are posessed by Lucifer, the dark lord of all that is not good, himself. And if the judge thinks that they pose feild-damage hazard, we will be ready for that, too.