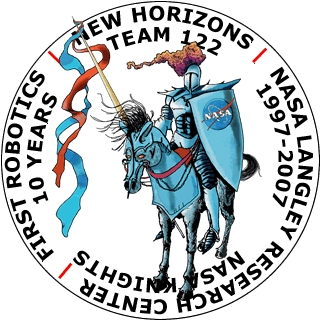 Ten Year Anniversary new logo we are working on
Isn't it actually your 11th year now? I think 1997 was your rookie year, making 2006 your 10th (and 10 year anniversary).

My former team had the pleasure of working with 122 twice in the 2004 season. Once in Chesapeake and the winning Palmetto with them. They were class acts all the way. Best of luck to your team in 2007
Looking good, but you might want to make it so you don't have to turn upside-down to read the bottom part. Just for ease of reading, of course. Other than that, it's pretty cool!


97
98
99
00
01
02
03
04
05
06
07
yeah 11 years, but it looks nice!

1997 was my first year with Phoebus High School Team 91.
Now you keep your Team number back then you didn't.
1998 we started Team122 with New Horizons Governor's School for Science and Technology. So many high schools in the area could be on the team.
Sorry for confusing everyone.:]
Looks very good! I like the moving one on your website.
:]