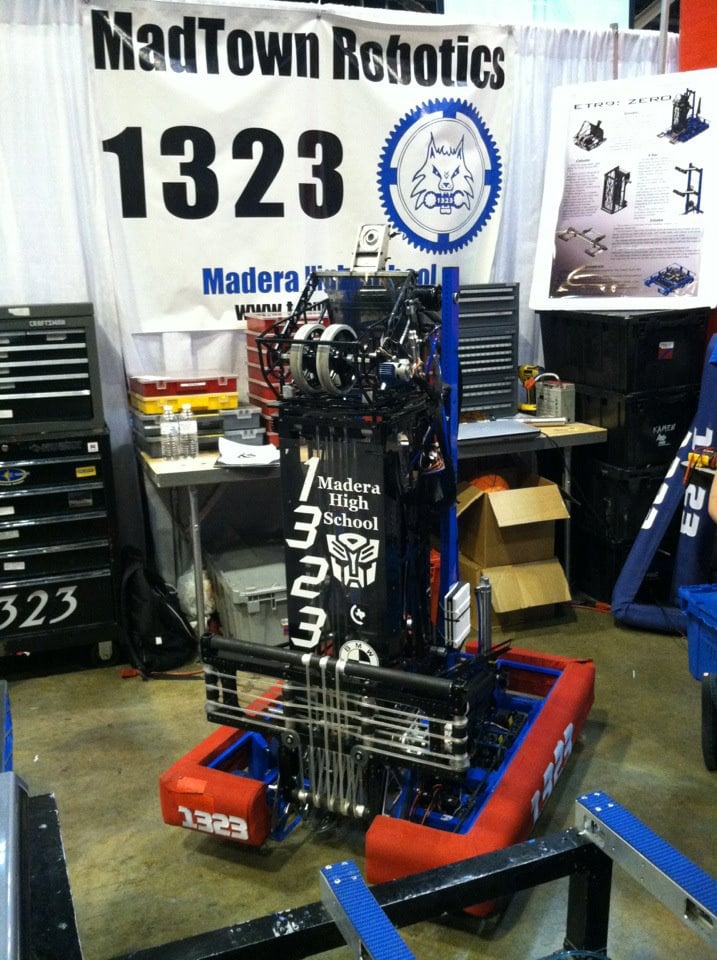 ETR9: Zero
It was a really fun season, we had a rocky beginning but got it together, special thanks to:
• James Tonthat, we can't thank you enough for helping us with the sheet metal this season along with teaching a lot about being competitive on the field!
• Eugene Fang/James Best, even though we didn't see you guys at all during the build, we are stoked that you guys mentored us this year (madstream, chairmans, design, machined parts!)
• Adam Heard, since 2010 you've been helping us grow. We've appreciate all the advice, especially helping us figure out how to do a full CD7 for champs!
• Jared Russell, we can't thank 341 and you enough or helping us with camera code this year. We don't know where our auto targeting would've been without you guys.
• Austin Shuh, It was awesome being able to bounce ideas off you and getting help with our controls this year. Caught major problems in our code and gave us insight on how to setup our controls
• And thanks to everyone else (EWCP, parents, sponsors, mentors,etc…) for the fun season!
Specs below:
DRIVETRAIN:
• 2 Speed Custom Shifting Transmission - Aluminum Gears from WCP
• WestCoast Drive Setup with built in skids and a pocketed aluminum bellypan - 8wd - Inspired by FRC254
• Custom Aluminum Wheels (6" OD) @ 1.5" Wide using Nitrile Tread
• Motors: 4 CIMS
INTAKE:
• CD7 Style Intake with 90 degree belt transfer via Polycord. Thanks 973/2415!
• 1.5" Bore Cylinders to manipulate bridge with a neutral position to allow various different movements and low ball pressure
• Motors: 2 Fisher Prices
4BAR:
• Arm made from thin wall aluminum - .060 with integrated bolt pattern for #35 Chain pocketed sprocket.
• The gearbox for this setup used custom aluminum gears from WCP.
• Motors: 1 AM 9015
COLUMN:
• Sheet Metal Construction, Thanks FRC1477! With integrated mounting holes for the 4bar.
• Motors: 1 RS 550's
TURRET:
• Custom routered sprocket with a custom ball bearing setup for rotation using a R4-R3-R4 stackup.
• Motors: 1 AM 9015
SHOOTER:
• 1/4" Plate & Tab Construction with slotted sections for Smoked PolyCarb Hood
• 2 Position Pneumatic Hood
• Motors: 2 RS-550's
THE "STICK":
• A 4Bar style balancing "STICK" deployed via pneumatics. Usable for double and triple balancing!
-Gary!