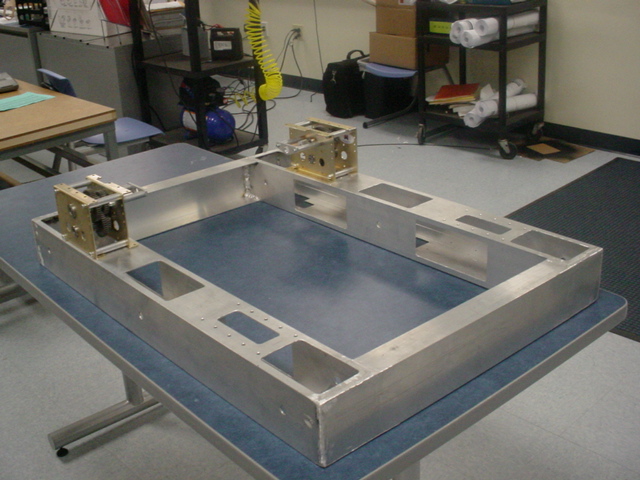 It is very similar to last season's chassis. Anyone want to guess on what's going on top of that?
=) 1345 found a new technological break through welding!! Looks good guys.
-Drew
Looks good, how much does what we see in the pic weigh?
Looks good, the welding is a great improvement. Can't wait to see what goes on top of it.

looks great, I love the welds.
As for on top, either an elevator or a portal gun?
Chris McKenzie
2186
Looks good guys!!
A 50 foot catapult???:ahh:

I cant wait till Florida.
look nice guys, but looks like it is heavy as hell
not really, it looks like all 1/8" aluminum. Looks like a solid base to me.
Looks good Ari. I think MARS and Red Dragons are all using that same tube. I'm glad to see you got it welded. I did see the gizmo on top

but I won't tell


You guys always come out swinging. Florida regional is going to be rediculously tough this year.
Thanks for all the comments. The bare frame weighs 4.7 lbs. The material we are using is 4"x4". It's 3/32" thick. AndyMark website tells me each transmission is 3.6 pounds, so what you see in the picture is a total of 11.9 lbs.
Dan, yes you have a very good idea of what it will look like, but we have changed the design a lot since you have seen it. =)
Then I demand a review… I'm going to my sources…