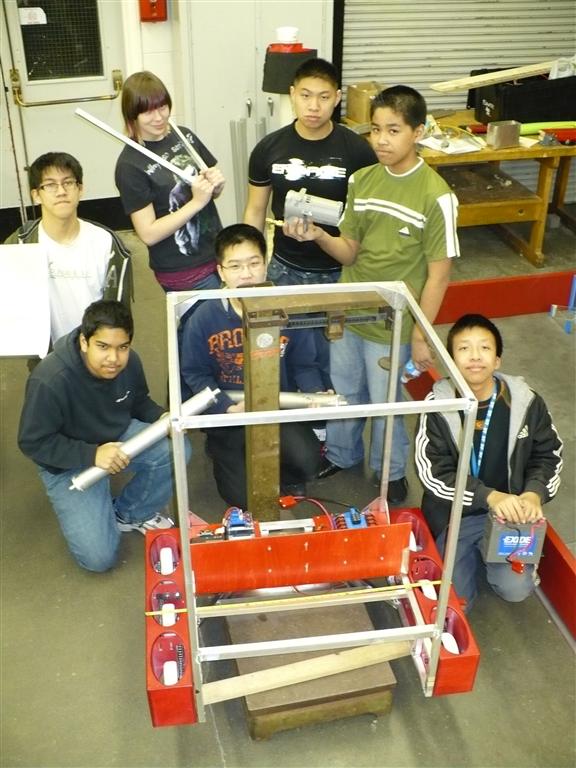 Our robot has a "modular" design. The red drive modules on the side are integrated units containing the wheels, chain tensioners, toughbox and CIM motor. They attach to the frame with five (or is it six?) 1/4" bolts. The control board is also modular and can be detached. The intake roller, dumper roller and round belting connecting the two is also modular and will slide down from the top.
The balls will be pressed between a round conveyor belting between the intake and dumper roller and a board with a high traction surface. The board will be pneumatically activated to pull back when gathering balls (so they only go part way up the conveyor) then pushed forward for dumping, putting the balls back in contact with the belts.
The drive modules, control module and (soon) conveyor module are all made of baltic birch, dyed red with aniline dye and lacquered.
Teams will note that we have the robot on a scale. (It weighs 65 pounds, 75 if the compressor and all those parts the students are holding are added in.) If you haven't weighed your robot, or don't know what it weighs… PLEASE WEIGH YOUR ROBOT (or at least its component parts) THIS WEEK and save yourselves some hassle. And yes, that is a tape measure across the top… measure it, too. And for that matter… post a photo here so you can find out what bumper rule you may have violated. (We should have a pretty easy time building legal bumpers for this one.)
Tonight was the first night we had the drive modules assembled and attached… the control board should be wired up in the next day or so. With luck we'll be driving this week, while the conveyor module is being built.
Good luck to our fellow teams who are also waaaayyyy behind where they want to be at this point in time.
Jason