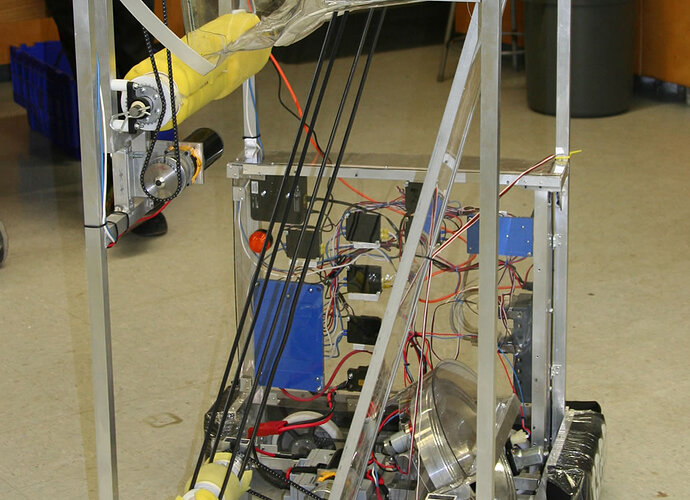 It's a few days earlier than we wanted to show this off, but who cares.
Gyration, meet CD. CD, meet Gyration. For the few of you who wanted to see a control movement gyroscope on a 2009 bot, you're in luck. We managed to cut a few pounds here and there to allow us to put a 10lb gyro on our robot that is spun using a FP motor with an AM planetary and some of the Gates belts. Tilting is accomplished by a window motor.
Drivetrain is 2 CIMs mounted on Dewalts (no servos). We're leaving them in 12:1 (~8fps), although the bot does drive in 4:1 and 3:1 - you can do the math.
Conveyor is also powered by a CIM and a dewalt. The chain driven rollers hold and drive 2 serpentine belts to get the balls up to the top of the hopper. The hopper is constructed out of the same material that is used for windows in convertible cars.
Shooter. Once again, a CIM and a dewalt drive PVC rollers (note the chain rigging, so one spins backwards). Speed is controlled by the operator, which will enable easy adjustment for shooting short or long distances, into trailers or corners. It's also reversible, so it can spin backwards and pick up empty cells from the outpost(s).
Stay tuned for auton …
Demo video: http://www.youtube.com/watch?v=Ed0Xgk0qqn8