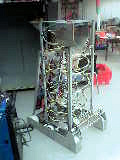 90% complete but still works extremely well
dude post a better quality pic, please. u cant tell what anything is.

I can see a spiral (storage), a front loader at the bottom, an electronics panel at the back, and something resembling a shooter up near the top.
I also see no apparent bumper rule violations. (Unless your front panels are less than 6", but they're sure close to that if they are short.)
The original seems to be a thumbnail version. Chillax.
But yea, a higher res pic would be nice. From what it seems, spiral loader, and a nice shooter up top. Looks purdy too.
i know…

I'm just givin my guys a hard time

then dude, you know what to get me for my birthday then now dont ya

curse those low res. pre-now cameria phones
We will just call this a teaser. yeah! right a teaser…lol
My phopne is horrible and i am sorry for it lol
planning on getting a better one
It looks good, if it was a better quality, I would be able to see more. I can tell from the photo, you are either going with dumping or shooting
so yall gonna have time to get it powdercoated this year? if so ur doing black right?