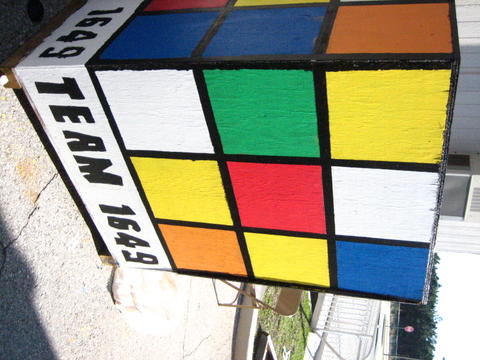 1649 will see everyone at the Florida Regional this year, in defense of our 2006 championship!
OMG, I love that so much!
(guess what our new crate is gonna look like…)
that's so original!
big smile
Great looking crate.
This makes my 2007 List of Top 10 Crates Designs.
Maybe one of the top 3!

awsome! it looks like an actual rubix cube! you can at least tell which one is yours easily
Looks great…Did you guys have a group of members dedicated to painting your crate? Or did you guys finish your bot super duper early?
There was just 3 members of the team who were dedicated to painting the crate the last 2 days/nights.
1390 members will go nuts when they see your crate. The Rubik's Cube seems to be the fad for us in 2007, we completely bought out Wal-Mart's supply of them. Many of the members are perfectly able to solve them in minutes, and I'm sure they will discuss with each other the next move needed to solve your crate.
That is GAWJUS! You guys rock!
There seems to be a rubiks cube revival this year… they're all over my school. Kudos on an amazing crate job, I look forward to seeing it at the Florida Regional.

One problem with your rubik's cube. Blue is not supposed to be next to green. Unless you have a weird cube. I like the idea though.