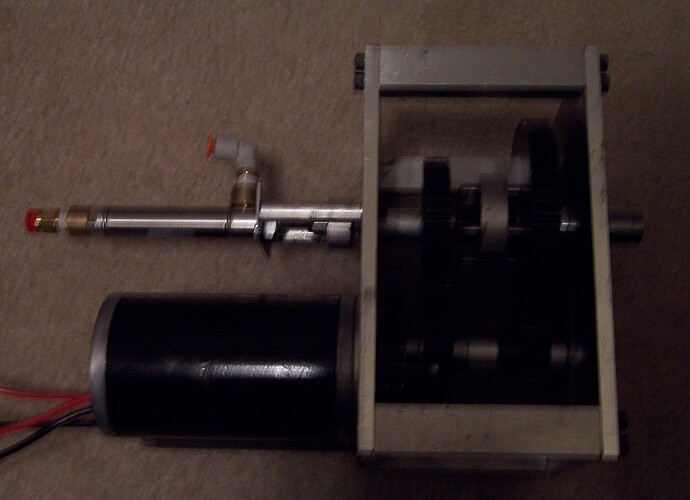 Wow, Ive been away on vacation so I havent been able to respond to your questions. But here it goes.
We used a one thousands under reamer for pins.

.25" in diameter, and 1.25" long. The hub piece is .5" thick.

The shaft is .75" hex (6 sided). we did that for better power transfer.

We need about .75" of stroke to shift.
The reason that the CIM motor is driving that gear, is because it is a different size gear. The sprokets that are given in the kit are 3/8ths inch face with a 14.5 degree pressure angle. So we decided to get a sprocket that can be used with the kit CIM sprokets. But in the other shifting gears we wanted them to be stronger, so we went with a .5" face and a 20 degree pressure angle. That means that the kit sprockets will not work with the other gears in our tranny. We want it to be tottally bullet-proof, so we over built it.
-The holes are reamed out to size "F", which I think is about 3 thousands over .25". But, we need to go a little larger, so we'll probably have to use a hand reamer.
There are 12 holes in each gear, where as the hub has 4.
-The shaft is connected to the "shifting shaft" by a .3125" ball bearing. We used a snap ring to hold the bearing into place, and it works REALLY WELL. I think its the best way to hold in the bearing, its quick, its simple, its light, and its easy to do.
I am very sorry for my terrible grammar and spelling skills. And for some reason I cant post replys, so if the webmaster sees this, can you send an activation thing to my new e-mail.