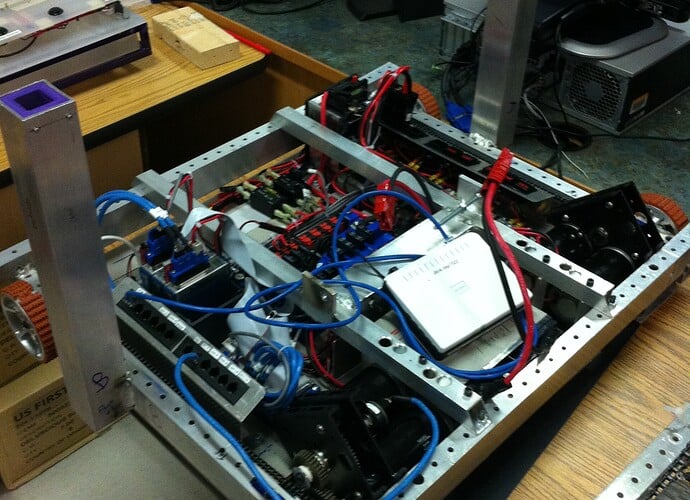 Some notes
This is our practice bot. The production bot is being powder coated tomorrow morning
The router won't stay there (ha)
c.g. is waaaay off since the upper mechanisms aren't there to balance it out
This is the perfect year to try WCD. 4WD is pretty awesome; ~55A during turns (our lowest ever) since the wheels are so far out. Putting the vertical towers on the outside really helped us free up the middle for disc launching.
Drive train is 24lbs. ~10.3ft/s post-losses, direct-driven.
Total bot will be around 90lbs. We expect to have to ballast it.
Frame is welded like that since we thought we may drive up the corner of the pyramid (wanted a smooth transition as the bot tilted. We scrapped that idea at the end of Week 1, yet the drive train was already designed & mostly fab'ed.
Programmers got 'drive straight' working tonight.
There seems to be a sensitivity issue with the Attack 3 joysticks. Have to get new ones since the ones we tested on are 4 years old.