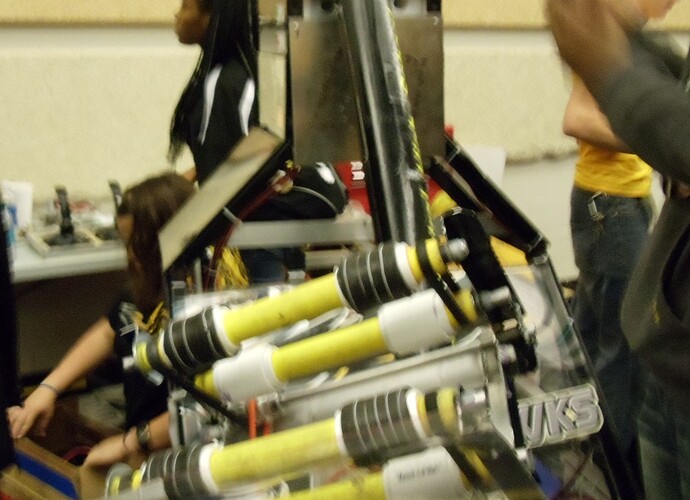 …And this wasn't with the series of zip ties and duct tape attached to the arm.
Today at the Cow Town Throwdown, things went from bad to worse, if it wasn't one thing, it was another.
Yesterday during practice matches, we discovered that the tubes were over inflated and too big for our gripper, and we had to widen it, and the belt for our rollers kept slipping out of it's place.
This morning we solved that by adding some washers to the rollers. But then in a match, the cable controlling our gripper snapped, and the master link on the chain on our left front wheel came off. We were fortunate to have those events occur during our largest break time between matches, and were able to get them fixed before we had to be on the field again (and by this, I mean us going on the field seconds before the match was going to start).
Then at the 2nd to last match for us, we lose connection to the field in the middle of a match. We went back to the pit to diagnose the problem, and found that the cRIO was the source, and the power light kept blinking. So our lead mentor decided to take it off, and attempt to get any metal shavings out of the cRIO. We turn the robot back on, and it was working again.
Then during our last match, the same thing happened again. We lost connection with the field shortly after autonomous, and we began to think we were out of the competition.
After that, during alliance selections, Team 16, the Bomb Squad, let us borrow a spare cRIO. After re-imaging and getting our code on the cRIO, we tethered up and tested everything out, and our gripper cable came off. All this was during alliance selections, and we were chosen by 1986, Team Titanium, after being ranked 19 out of 32 that day.
We got the cable fixed in time, but during our first quarterfinal match, our battery was dying, and our controls were swapped around on our control station since we were using a different cRIO. Our alliance still managed to win the match, and we managed to get our robot to the minibot pole and deploy.
So we go back to our pit, we didn't discover that the controllers were swapped until this point, I changed them around, and we seemed to be good to go.
Then during the next match, the weld on our arm broke. Our arm was dangling, swaying and moving every direction it wasn't supposed to. With the help of our alliance, we still managed to win the match.
So our arm was useless, and we took it off, but we still had a working drive train and minibot, and were told to play defense by our alliance captains. We made it through the semifinals playing defense, but during one of these matches, our minibot launcher deployed due to a hard ram at the beginning of the match. The minibot broke, we had a spare, and planned on using it well.
Then came the finals, and our alliance was going against Bomb Squad and their alliance, who we would've never gotten to this point without since we were using their spare cRIO.
This was when things got a little crazy. Our alliance used their time out, and we made our best attempt to get our arm back on. We drilled some aluminum pieces into place, put a pole on the side of the arm, used a half roll of duct time and about a dozen zip ties to try and keep it in place. This ended up being useless, but it was a nice attempt (You should have seen the reaction when we got our bot on the field. Our lead mentor swears if we had more time, tape and zip ties we would've gotten it working).
So we continued to play defense during the finals, attempting to score a minibot at the end of each match, but during the match where our launcher deployed early, the launcher suffered damage, and wouldn't always extend to it's full length, not making it far enough for the bot to touch the pole and score. We won the first match of the finals due to a red card on the opposing alliance. And during setup, the chain on our left front wheel slipped off, we were thankfully able to repair it easily and get ready for the next match.
It was during the next match, where another robot on our alliance became a sitting duck. We tried the best we could with only 2 working robots, but it was hard to do with only 1 offensive bot working, and the other 2 playing defense. They ended up getting swapped out with our alliance's 4th alliance pick, (who didn't replace us because they didn't have a minibot, and minibots were worth more points that tubes, even though we were unable to get our minibot up after it deployed early during the semifinals). During the final match, we tried our hardest, without an arm and all, trying to play defense, but during the end game, we were unable once again to get our minibot up the tower (which we later found out to be because our spare minibot did not fit the launcher correctly) and we lost the finals.
But it wasn't about winning or losing, it was about us not giving up. We were able to show our rookies a valuable lesson; that it's not over until it's over, and that you shouldn't give up. We almost gave up after our cRIO stopped working, but instead we kept going. And even after our arm broke, we kept going. Yes, we may have a broken cRIO and a broken arm, but we also have a finalist award for the 2011 Cow Town Throwdown.
What a day. I think we have a pretty good idea what we'll be doing for our next off season project.