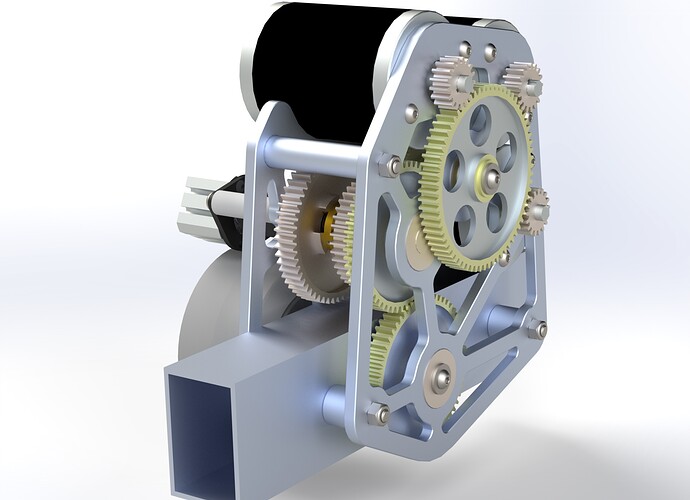 So I saw a number of flipped CIM shifters posted recently, and I thought I would try my hand at it. My main goal was to make this as "thin" as possible (i.e. minimize distance from inside of the tube to the inside-most face of the gearbox). A lot of this design was inspired by
this gearbox
recently posted. The biggest difference here is that this gearbox is positioned on top of the tube, instead of the inside of the chassis. Shown with 1 CIM, 2 MiniCIMs for visual, would likely be run with 3 MiniCIMs.
Here are some more renders, and CAD is available here.
Some specs:
[list][]Suitable for 3 CIMs (or 3 MiniCIMs, 1 CIMs + 2 MiniCIM, yada yada yada)
[]3.5lbs without motors (including pneumatics & sprockets)
[]5/15 ft/s adj. speed as configured, but easily changed via 3rd stage ratios
[]~1.5" from inside of frame to inside of gearbox
[]8.9" max height from the ground, 6.9" max width
[]Designed for chain-in-tube WCD[/list]
Feel free to post comments, questions, suggestions, or reaction GIFs.