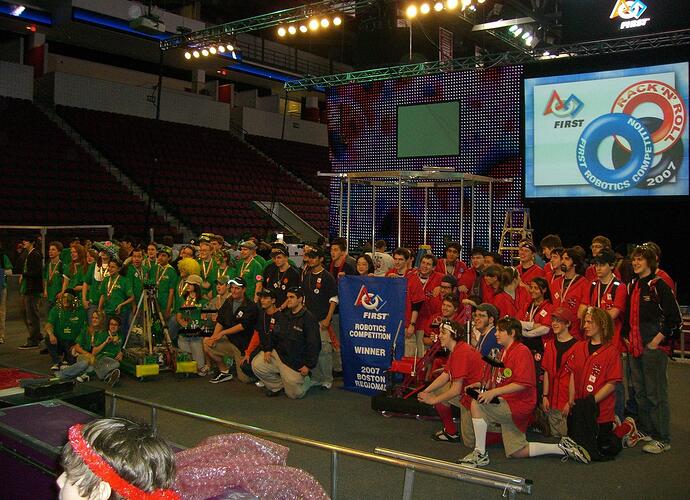 Gael Force, HYPER, and the NU-Trons on the field after winning the boston regional…
the NU-Hyper-Force…
So it's becoming clear: if you get knocked out early in the Florida eliminations, go to Boston. First 233 last year, now 69.
Congrats, y'all!
Right after alliance selections i was talking to a few guys from HYPER and they were telling me their story of the Florida regional, and how teams declined their offer to join their alliance.
We all agreed that we weren't goign to let this one get away from them either…
Alright, I am finally back at school and recovered from the regional enough to start posting, and where better to start than here.
Congratulations to all three teams on your win. I still have no idea how 125 fell this far in the draft but good work to 126 and 69 for catching it and taking advantage of it. You guys were pretty much unstopable, I am just glad we were able to keep things interesting in the finals.
James.
Thanks to team 126 for another win together as alliance partners (We won at CT in 2005) and thanks to team 125 you guys were awesome in last match with the 3 sec ramp climb. As you can see we were really unprepared for the photo as we already packed our bot and most of our members had left on the bus without knowing about the team pic. Sorry about that LOL.
It was an absolutely amazing weekend. 126 was honored to work with such great teams. The alliance we created was awesome… and yes unstoppable. The 3 finals matches were just amazing!
126: Thank you for believing in us. When it seems like everyone else simply looked at our ranking, you never doubted us. Congrats on "the big award."
69: You guys are awesome. Your arm was crazy effective. Your ramp made it possibly for my boy JL to hit it in less than 3 seconds from midfield in Final 3.
Thanks for a memorable Boston Regional and good luck in the future.